October is all about embracing Autumn by spending a cozy afternoon with a good book. Whether you're looking for something light and heartwarming or something dark and mysterious, we've got you covered with this month's Reading Revelry selections. From all of us at the Engineering library, happy fall and happy reading!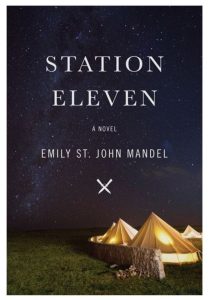 Station Eleven by Emily St. John Mandel
ISBN: 9780385353304
Publication Date: 2014-09-09
Kirsten Raymonde will never forget the night Arthur Leander, the famous Hollywood actor, had a heart attack on stage during a production of King Lear. That was the night when a devastating flu pandemic arrived in the city, and within weeks, civilization as we know it came to an end. Twenty years later, Kirsten moves between the settlements of the altered world with a small troupe of actors and musicians. They call themselves The Traveling Symphony, and they have dedicated themselves to keeping the remnants of art and humanity alive. But when they arrive in St. Deborah by the Water, they encounter a violent prophet who will threaten the tiny band's existence.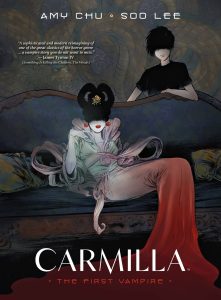 Carmilla: the First Vampire by Amy Chu; Soo Lee (Illustrator); Sal Cipriano (Illustrator)
ISBN: 9781506734644
Publication Date: 2023-02-28
At the height of the Lunar New Year in 1990s New York City, an idealistic social worker turns detective when she discovers young, homeless LGBTQ+ women are being murdered and no one, especially the police, seems to care. A series of clues points her to Carmilla's, a mysterious nightclub in the heart of her neighborhood, Chinatown. There she falls for the next likely target, landing her at the center of a real-life horror story and face-to-face with illusions about herself, her life, and her hidden past. Inspired by the gothic novel that started the vampire genre and layered with dark Chinese folklore, this queer, feminist murder mystery is a tale of identity, obsession and fateful family secrets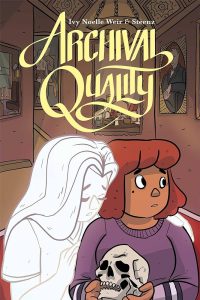 Archival Quality by Ivy Noelle Weir; Steenz (Illustrator)
ISBN: 9781620104705
Publication Date: 2018-03-06
After losing her job at the library, Cel Walden starts working at the haunting Logan Museum as an archivist. But the job may not be the second chance she was hoping for, and she finds herself confronting her mental health, her relationships, and before long, her grasp on reality as she begins to dream of a young woman she's never met, but feels strangely drawn to.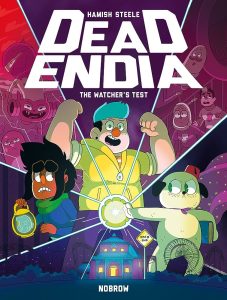 DeadEndia: the Watcher's Test by Hamish Steele
ISBN: 9781910620472
Publication Date: 2018-08-07
Barney and his best friend Norma are just trying to get by and keep their jobs, but working at the Dead End theme park also means battling demonic forces, time traveling wizards, and scariest of all–their love lives!