Changes to the Catalog
Our new library catalog, which we share with the UM System Libraries, launched on June 22, 2022. The classic catalog is now integrated with the search box on the homepage. This search includes our books, DVDs, recordings, and other physical materials, as well as articles, e-books, journals, videos, and other digital materials from library databases.
If you are affiliated with MU, enter your search terms in the Discover@MU search box. At the next screen, you will be prompted to log in to see the search results. If you are not affiliated with MU, select the "Guest Search" option below the search box (see image below). Note: databases from the ProQuest platform are not searched as part of Discover@MU (they never have been due to competitive issues between Ebsco, the vendor used for Discover @MU, and ProQuest). Our transition to this new search system is not complete. We are aware that you might come across problems while searching. To provide feedback or report an issue with the new library catalog email the library.



View Your Library Account 
See the list of materials you have borrowed, view their due dates, or renew your loan on materials (extend the due date) by logging in to your library account. On the MU library website, click the My Accounts link in the gold bar near the top of the screen. Choose View My MU Libraries Account. Use your MU username and password to log in (what you use to log into myZou).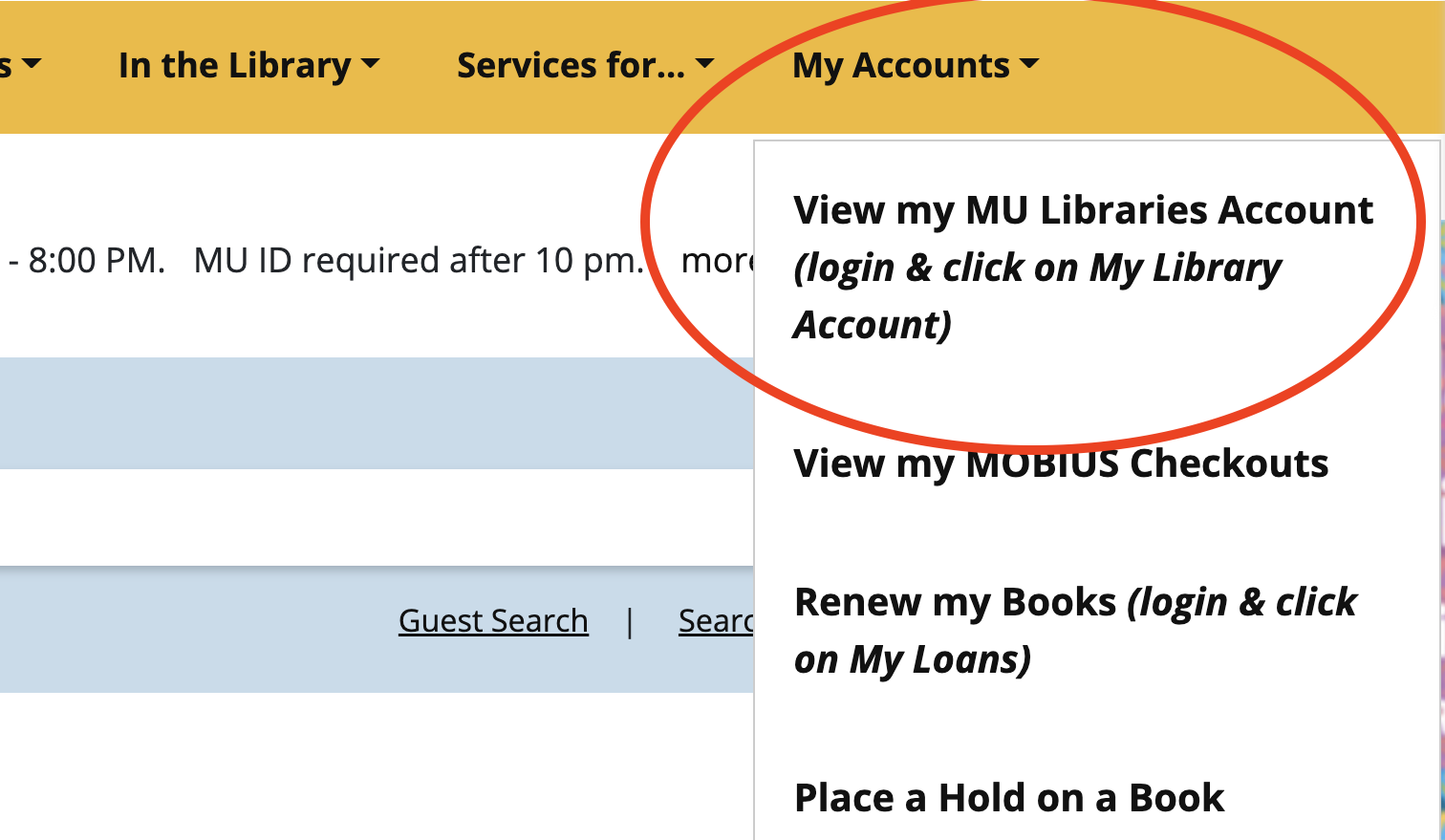 At the next screen, choose either My Library Account or My Loans (both in the black top bar).

Under View my MU Libraries Account you can opt to renew books currently checked out from any UM Library (if title is eligible for renewal).
Note: The number of renewals has changed to two renewals for all UM affiliates. If you need to renew a book a third time, you will need to bring it to the library along with your MU ID card.
To manage items you have borrowed that are not from the UM system libraries, click on View my MOBIUS Checkouts. You will also use your MU ID and password to access this information.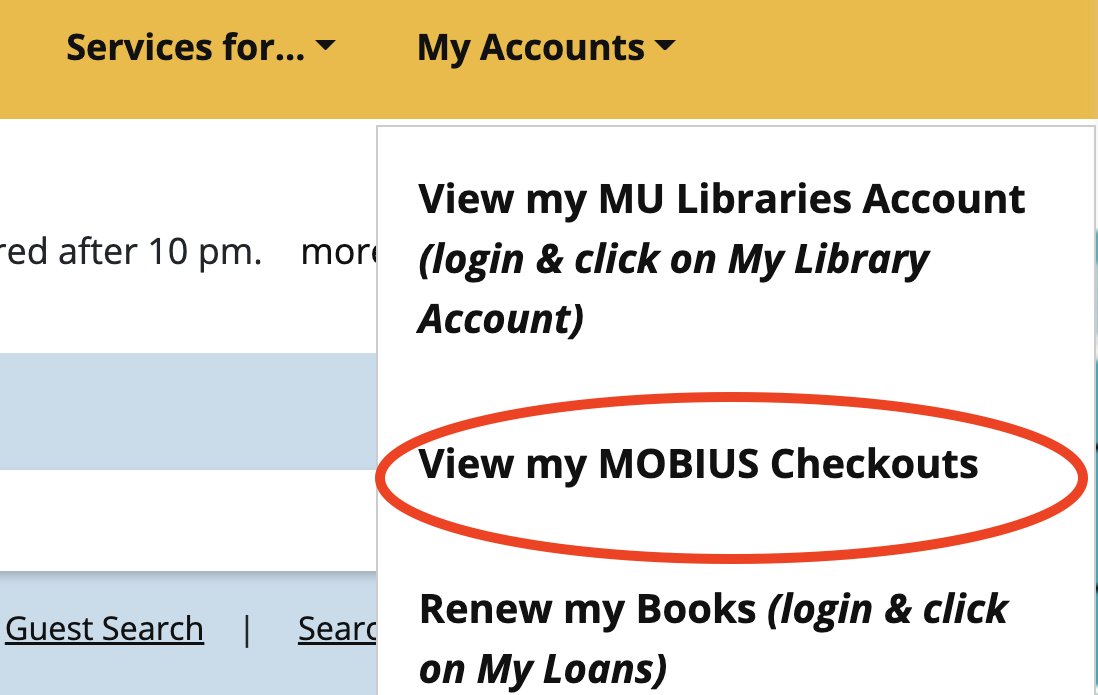 Why am I prompted to review EBSCO's privacy policy when logging in? 
The first time you log in to the new catalog, you may be asked to review EBSCO's privacy policy. EBSCO is the vendor for the software that powers the library search. The privacy policy pertains to myEBSCO personal accounts. Your MU library user account is separate from a myEBSCO personal account, but you must consent to the policy to be able to make requests for materials from the new catalog. If you choose not to consent, you can still use the library catalog via Guest Access, but you will not be able to request items, view your library account, or access the library's electronic resources.
After consenting to the privacy policy, you will additionally have access to individual functions such as personalization features, the ability to save records and searches, the ability to create folders to organize materials, etc. You may have already done so when using our other EBSCO databases and can merge that account with your library account.
The personal information EBSCO collects will not be sold to others. The EBSCO data privacy policy was reviewed by the libraries and the appropriate University of Missouri legal and information security personnel to ensure it met the requirements for protecting the personal information of the University of Missouri students, faculty and staff.
What exactly is included in the library search? 
All the cataloged materials from the four University of Missouri System campus libraries
All the cataloged materials from the State Historical Society of Missouri
Materials from MOspace
Electronic resources including articles, eBooks, journals, video, and other digital materials from library databases and open access (OA) resources.
Tutorials
Take a look at new tutorials on the
Recordings and tutorials page.
Background
This summer, the University of Missouri System Libraries changed the search features that affect how to search for library materials. The contract for our previous library catalog had ended, and that vendor chose not to submit a bid to renew the contract. Consequently, we had to choose a new vendor. We know that change can be disruptive, and we appreciate your patience as we all learn how to use the new catalog, which continues to evolve. Despite the changes, the MU Libraries continue to be committed to providing our faculty and students access to the library resources needed to be successful in learning, teaching and research. We hope you'll reach out to staff for assistance as needed.