Congratulations to Annie (Ningyuan) Hu!  Annie was selected as the Journalism Library's Instagram Takeover winner.
In March, the Journalism Library wanted to hear from the students.  We encouraged students to submit a short video (no more than 15 seconds) to our Instagram telling us why they loved the library.  Annie submitted a great video, highlighting our space and equipment!  You can find her video here!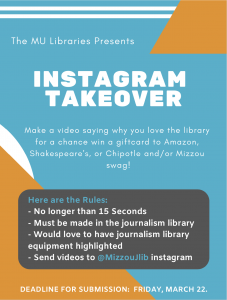 Annie is a senior Strategic Communication major who plans to work in fashion and/or beauty marketing.  She visits the library daily to study and checkout equipment.   When asked about the Journalism Library, Annie said "I like it, I love it! It makes me want to study here!"
A big thank you to Annie for her video!  Be sure to check us out on Instagram!