Where do you go if the information you need isn't online? To the library, of course!
Dr. Karl Hammond, Assistant Professor of Chemical Engineering, supports the Engineering Library by using its resources in his own work and by designing assignments that integrate library resources into student learning outcomes.
In the library he is known for an assignment that requires students (typically Juniors in Chemical Engineering) who are enrolled in Thermodynamics II to find experimental vapor-liquid equilibrium data for a pair of compounds assigned to each individual student.  This assignment typically requires students to consult either online or in-print books containing compilations of vapor-liquid equilibrium data from the literature, often from the early- to mid-twentieth century.  Professor Hammond asks the staff at the Engineering Library & Technology Commons to place several of these books on reserve during the assignment –the library staff typically assign them their own cart  behind the circulation desk.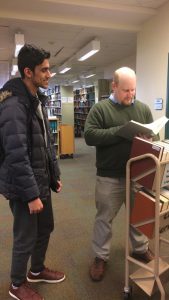 One of Professor Hammond's goals for this assignment is to engage students with the library's printed collection, which often showcases data that are difficult or impossible to access online, thus making students aware that not all useful information has been or will be digitized.  According to Dr. Hammond,  "If you don't show students a resource exists, they won't know to look for it." The wealth of tabular data available also allows Professor Hammond to assign each student in the course a unique pair of compounds to look up and then plot results from models against measured data to get a sense of how accurate the models are and how to use them. Knowing the full breadth of resources available to find thermodynamic data is an essential skill for success in Design I and II, which students take in their final year in the Chemical Engineering major.
Cycle of Success is the idea that libraries, faculty, and students are linked; for one to truly succeed, we must all succeed. The path to success is formed by the connections between University of Missouri Libraries and faculty members, between faculty members and students, and between students and the libraries that serve them. More than just success, this is also a connection of mutual respect, support, and commitment to forward-thinking research.
If you would like to submit your own success story about how the libraries have helped your research and/or work, please use the Cycle of Success form.