The Missouri Scholars Academy brings 330 gifted high school juniors from around the state to the University of Missouri Campus. "With a carefully selected faculty and staff, a specially designed curriculum that focuses on the liberal arts, and a variety of stimulating extracurricular activities, the academy enables students to be part of a unique learning community." One of those stops for the academy is the library.
Last year, the students visited with Rachel Brekhus, Humanities and Social Sciences Librarian, who assisted the students with finding primary historical sources and secondary scholarly sources. The collaboration was so successful that, Ben Balzer, one of the Missouri Scholars instructors, jumped at the chance for his science fiction students to attend Rachel's research workshop during the 2018 session as well as expanding that collaboration to include Kelli Hansen, Special Collections Librarian.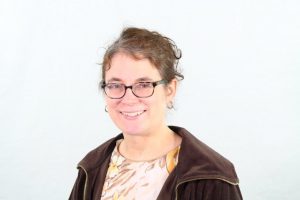 "Their work with my students was, in short, amazing! I extended my collaboration to Kelli because of how much last year's students enjoyed working with library resources," says Ben. Both his science fiction and censorship in literature classes met with Kelli, who provided literary texts from the eighteenth, nineteenth, and twentieth centuries for the scholars to examine. The scholars looked at items ranging from a comic version of 2001, A Space Odyssey to a rare copy of Utopia by Thomas More. Ben found this opportunity provided his students the ability "to see the rich artistic tradition that underpins the literature we read today." The scholars left their visit to Special Collections inspired and excited to work on their research projects.
Ben sees this collaboration being a regular component of his classes. "I want high school students to gain familiarity with university resources so they will feel prepared to make good use of academic libraries when they arrive on college campuses. Students of literature should also be introduced to the social, political, ethical, and historical significance of the texts they read. Working with research librarians helps students better recognize these broader contexts and how they enrich literary study," says Ben.
Cycle of Success is the idea that libraries, faculty, and students are linked; for one to truly succeed, we must all succeed. The path to success is formed by the connections between University of Missouri Libraries and faculty members, between faculty members and students, and between students and the libraries that serve them. More than just success, this is also a connection of mutual respect, support, and commitment to forward-thinking research.
Although the Cycle of Success typically focuses on the relationships among the Libraries, faculty, and students, the Libraries also contribute to the success of all the communities Mizzou serves. The Libraries are an integral part of Mizzou's mission "to provide all Missourians the benefits of a world-class research university."
If you would like to submit your own success story about how the libraries have helped your research and/or work, please use the Cycle of Success form.