Letter to a Young Female Physician: Notes from a Medical Life by Suzanne Koven, MD
Watching a new class of interns, Suzanne Koven, MD, a primary care physician at Massachusetts General Hospital in Boston, felt an urge to pen them a missive describing what she wished she had known early in her career. "Even more, I yearned to tell my younger self what I wished I'd known," she notes in Letter to a Young Female Physician. Koven's decades of experience include varied forms of sexism, including being told that "no self-respecting man would go to a lady urologist." But her dedication to medicine is staunch, manifest in her decision to volunteer in a COVID-19 clinic despite concerns about her own health. Koven also honestly reveals her many moments of insecurity as a provider, as a mother, and as a daughter who failed to recognize her mother's heart disease. From burnout to body image, she shares her personal journey toward a deeper appreciation of her gifts and a greater acceptance of her imperfections.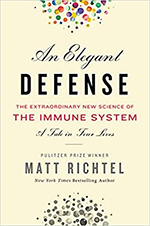 An Elegant Defense: The Extraordinary New Science of the Immune System: A Tale in Four Lives by Matt Ritchel
Given the impact of the coronavirus and COVID-19 vaccines on the immune systems of millions of people around the world, few topics may be as compelling or timely as immunology. Written before the pandemic but powerfully describing the intricate mechanism that can heal cuts, fight cancer, and battle viruses, An Elegant Defense weaves together biology, research, and medical history with four patients' personal experiences — including a childhood friend of author Matt Ritchel. Ritchel, a Pulitzer Prize-winning New York Times journalist, takes readers on an intimate exploration of the body's primary defense mechanism and its ability to heal or hurt.