Throughout history, women have been passionate about working hard to create a better future. In 1987, after being petitioned by the National Women's History Project (NWHP), Congress passed Pub. L. 100-9 which designated the month of March 1987 as Women's History Month. Today, the NWHP is known nationally as the only clearinghouse providing information and training in multicultural women's history for educators, community organizations, and parents-for anyone wanting to expand their understanding of women contributions to U. S. This month, the Health Sciences Library is commemorating the notable women in the fields of science, technology, engineering, and mathematics (STEM).

Earlier this month we featured several items from our catalog in this month's book display: History of Women and Medicine. All are fantastic examples of the impact women have had on the history of medicine. All items in the display are still available for check out.
Coninciding with the book display, we created a series of tweets highlighting these extraordinary women. All tweets were inspired by Women in Science- 50 Fearless Pioneers Who Changed the World written and illustrated by Rachel Ignotofsky. The book is full of wonderful information, and beautiful illustrations. Below, is an excerpt from the book about Dr. Elizabeth Blackwell.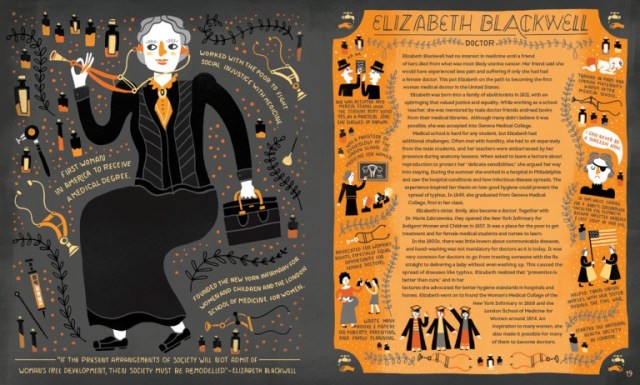 She advocated for better hygiene standards in hospitals and homes, and went on to found the Women's Medical College of of the New York Infirmary in 1868 and the London School of Medicine for Women around 1874. While we don't have this book in our library catalog, we do have some other wonderful items you can check out.
https://www.rachelignotofskydesign.com/