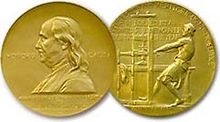 Columbia, Mo. (April 21, 2014) – An alumnus of the Missouri School of Journalism has been awarded a 2014 Pulitzer Prize, the highest honor given for U.S. journalism.
Chris Hamby, MA '10, received the medal in the investigative reporting category for "Breathless and Burdened," a series that exposed the systematic denial of benefits for coal workers with black lung disease.
In addition, two alumni, Jeff Leen, MA '82, and Steven Rich, MA '13, were members of The Washington Post team led by Bart Gellman that shared the Pulitzer Prize for Public Service with a team from The Guardian U.S. They covered the NSA surveillance reports based on the leaks of Edward Snowden.