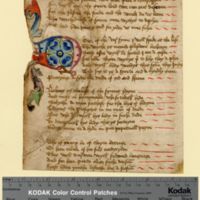 Instructions to his son
Information About This Item
Title
Instructions to his son
Description
Contents: H. G. Jones, "Peter Idley's Instructions to his son," Neuphilologische Mitteilungen74 (1973) 686-689.
Provenance: John Bagford (1650s-1716) to St. Martin-in-the-Fields; sale 1861 to Sir Thomas Phillipps, n.15758; his sale 22 May, 1913, lot 742; Sir Sydney Cockerell (1867-1962) sale Sotheby's 3 April, 1957; William Salloch (Ossining NY) Cat. 258 (1968) to U. Missouri.
Script: Cursive
Notes: Identifying this as a missing leaf from the Pepys ms in Cambridge, Magdalen College; see M. R. James, pt. 3 of Bibliotheca Pepysiana(1923) 67-69; Frag 177v Verses 2486-2511: actually the recto of the leaf; Frag 177r Verses 2514-2539: actually the verso of the leaf.
Decorations: Large "N" with a four-leaf flower inside and large foliage décor extending vertically into left margin
Relation
M. McC. Gatch, "Fragmenta Manuscripta and Varia at Missouri and Cambridge," Transactions of the Cambridge Bibliographical Society9 (1990) 434-75. J. Boffey and A. S. G. Edwards, New Index of Middle English Verse(London 2005) n. 1540.
Identifier
Fragmenta Manuscripta 177
Source
http://ds.lib.berkeley.edu/FragmentaManuscripta177_45
Format
Paper - 161 x 208 mm - One column with 3 seven-line stanzas plus 5 lines of a fourth stanza visible, neither bounding lines nor ruling visible
Collection
Tags
Share This