Teaching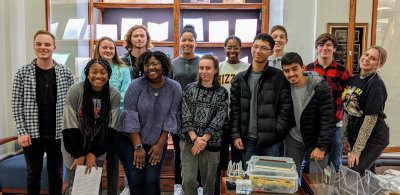 Special Collections librarians are here to help you incorporate rare materials research and primary source literacy instruction into your teaching, whether as a brief guest lecture, a class session, reference assistance during student projects, or a full-blown series of workshops. Some of the ways we have assisted faculty in the past include:
In-Class and Online Presentations. If a visit to Special Collections is not possible, librarians from Special Collections can visit your classroom or Zoom session to make presentations using PowerPoint and other visuals. Although it is preferable for students to experience the materials firsthand, presentations may prepare students for research in Special Collections or give a brief overview of the department.
Class Visits. The Special Collections classroom in Ellis 406 is able to accommodate classes of up to 35. The room is modular and can easily be adjusted to a variety of instructional formats. During these class visits, a librarian will be on hand to provide assistance with materials or to co-teach the class session with you.
Digital Resources. Librarians can create scans, videos, tutorials, quizzes, and other online resources to support asynchronous student learning in Special Collections. Special Collections staff maintain online guides to resources on different aspects of book history, sample class sessions, and videos about the collections more generally. Links to these materials can be found in this section.