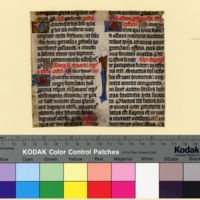 Missal
Information About This Item
Description
Contents: Contains parts of services related to Gervasius and Protasius, to the translation of Edward king and martyr, and to Alban protomartyr.
Provenance: John Bagford (1650s-1716) to St. Martin-in-the-Fields; sale 1861 to Sir Thomas Phillipps, n.15758; his sale 22 May, 1913, lot 742; Sir Sydney Cockerell (1867-1962) sale Sotheby's 3 April, 1957; William Salloch (Ossining NY) Cat. 258 (1968) to U. Missouri.
Script: Gothic
Notes: Frag 094r contains the beginning of the mass for Sts. Gervasius and Protasius (19 June); Frag 094v contains the end of the mass of Sts. Gervasius and Protasius, and parts of the masses for the translation of the relics of Edward king and martyr (20 June) and Alban (22 June).
Decoration: Several gold initials
Relation
M. McC. Gatch, "Fragmenta Manuscripta and Varia at Missouri and Cambridge," Transactions of the Cambridge Bibliographical Society9 (1990) 434-75.
Identifier
Fragmenta Mansucripta 094
Source
http://ds.lib.berkeley.edu/FragmentaManuscripta094_45
Format
Parchment - 110 x 122 mm - Two columns with 20 visible lines, with bounding lines and ruling in purple ink on recto
Collection
Tags
Share This