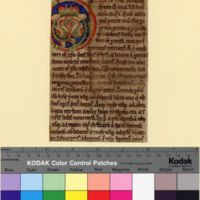 De civitate Dei
Information About This Item
Creator
Augustine of Hippo
Description
Contents: Contains part of xvii.23, 24, and xviii.1.
Provenance: John Bagford (1650s-1716) to St. Martin-in-the-Fields; sale 1861 to Sir Thomas Phillipps, n.15758; his sale 22 May, 1913, lot 742; Sir Sydney Cockerell (1867-1962) sale Sotheby's 3 April, 1957; William Salloch (Ossining NY) Cat. 258 (1968) to U. Missouri.
Script: Romanesque
Notes: Initial is in style of early Ottonian illumination, foliate decoration was widespread in English Mss of s. XII. Latin
Decoration: 8-line decorated initial on recto (originally verso), formed of reserve parchment defined with red strips of varying widths on the outer edge. A stem with three, thick petals at circular terminus curves upward in interior.
Relation
M. McC. Gatch, "Fragmenta Manuscripta and Varia at Missouri and Cambridge," Transactions of the Cambridge Bibliographical Society9 (1990) 434-75.
Identifier
Fragmenta Manuscripta 009
Source
http://ds.lib.berkeley.edu/FragmentaManuscripta009_45
Format
Parchment - 145 x 100 mm - Recto/verso sides as fragment are opposite to recto/verso in original ms. 1 col., probably of 2, single bounding lines. 21 lines visible, 7 mm apart. Ruling in leadpoint. Brown Ink.
Collection
Tags
Share This