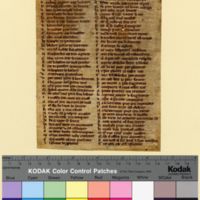 Miroiror Evangiles des Domnees
Information About This Item
Creator
Robert de Gretham
Title
Miroiror Evangiles des Domnees
Description
Contents: A. T. Baker, "A Fragment of the 'Miroir' or 'Evangiles des Domees' of Robert de Gretham," Modern Humanities Research Association1 (1928) 62-67, parts of sermons 15-16. See T. G. Duncan and M. Connolly, The Middle English Mirror(Heidelberg 2003).
Provenance: John Bagford (1650s-1716) to St. Martin-in-the-Fields; sale 1861 to Sir Thomas Phillipps, n.15758; his sale 22 May, 1913, lot 742; Sir Sydney Cockerell (1867-1962) sale Sotheby's 3 April, 1957; William Salloch (Ossining NY) Cat. 258 (1968) to U. Missouri.
Script: Gothic
Notes: Frag 135v Contains the rubric for the day, "Dominca tercia in quadragesima secundum mattheum," followed by the biblical verse in Latin, and then the text in French.
Relation
M. McC. Gatch, "Fragmenta Manuscripta and Varia at Missouri and Cambridge," Transactions of the Cambridge Bibliographical Society9 (1990) 434-75.
Identifier
Fragmenta Manuscripta 135
Source
http://ds.lib.berkeley.edu/FragmentaManuscripta135_45
Format
Parchment - 166 x 126 mm - Two large columns with 41 visible lines, recto, and 39 visible lines, verso, each column preceded by narrow column to the left consisting of a capital letter and a space, with recto and verso ruled separately with leadpoint
Collection
Tags
Share This