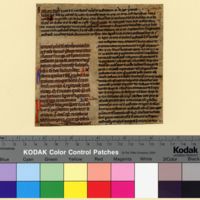 Canon Law with gloss
Information About This Item
Title
Canon Law with gloss
Description
Provenance: John Bagford (1650s-1716) to St. Martin-in-the-Fields; sale 1861 to Sir Thomas Phillipps, n.15758; his sale 22 May, 1913, lot 742; Sir Sydney Cockerell (1867-1962) sale Sotheby's 3 April, 1957; William Salloch (Ossining NY) Cat. 258 (1968) to U. Missouri.
Script: Gothic
Condition: Evidence for cropping on bottom, less on right, left and top
Notes: Glosses made in later hand, cursive script on both base text and commentar
Relation
M. McC. Gatch, "Fragmenta Manuscripta and Varia at Missouri and Cambridge," Transactions of the Cambridge Bibliographical Society9 (1990) 434-75.
Identifier
Fragmenta Manuscripta 063
Source
http://ds.lib.berkeley.edu/FragmentaManuscripta063_45
Format
Parchment - 119 x 122 mm - Two columns, one base text, one commentary, with 17 visible lines of base text and 29 visible lines of commentary , with bounding lines, lead ruling on recto (hair?)
Collection
Tags
Share This