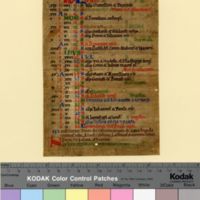 Calendar May, June
Information About This Item
Description
Contents: Calendar in black ink with higher level feasts in green, red and blue; considerable amount of calendrical information; the word "pape" erased.
Provenance: John Bagford (1650s-1716) to St. Martin-in-the-Fields; sale 1861 to Sir Thomas Phillipps, n.15758; his sale 22 May, 1913, lot 742; Sir Sydney Cockerell (1867-1962) sale Sotheby's 3 April, 1957; William Salloch (Ossining NY) Cat. 258 (1968) to U. Missouri.
Script: Romanesque / Early Gothic
Condition: Evidence for use in binding: 2 folds, 13 mm apart seen from verso with 4 sets of matched holes on either side of fold indidcate that fragment has been stitched around book as wrapper or part of binding
Relation
M. McC. Gatch, "Fragmenta Manuscripta and Varia at Missouri and Cambridge," Transactions of the Cambridge Bibliographical Society9 (1990) 434-75.
Identifier
Fragmenta Manuscripta 048
Source
http://ds.lib.berkeley.edu/FragmentaManuscripta048_45
Format
Parchment - 188 x 117 mm - 6 columns (4 for dating system, 1 for capital letter beginning each entry, 1 for text), 37 lines visible, single bounding lines with 9 additional vertical lines for kalendar columns, ruling in drypoint on recto (flesh)
Coverage
England, Worcester?
Collection
Tags
Share This