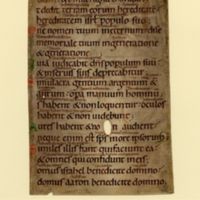 Psalter, glossed
Information About This Item
Description
Provenance: John Bagford (1650s-1716) to St. Martin-in-the-Fields; sale 1861 to Sir Thomas Phillipps, n.15758; his sale 22 May, 1913, lot 742; Sir Sydney Cockerell (1867-1962) sale Sotheby's 3 April, 1957; William Salloch (Ossining NY) Cat. 258 (1968) to U. Missouri.
Condition: Some evidence of cropping
Notes: Post-conquest date for hand; a pencilled marginal note compares script to London, BL, Harley 2904, dated s. X from Ramsey Abbey by N.R. Ker, in Medieval Libraries of Great Britain London: Royal Historical Society, 1964
Relation
M. McC. Gatch, "Fragmenta Manuscripta and Varia at Missouri and Cambridge," Transactions of the Cambridge Bibliographical Society9 (1990) 434-75.
Identifier
Fragmenta Manuscripta 046
Source
http://ds.lib.berkeley.edu/FragmentaManuscripta046_45
Format
Parchment - 250 x 145 mm - Single column with 22 lines of text visible, gloss alternates, but no ruling for glossed lines, bounding lines, with one outer line, 8mm out, ruling with drypoint on verso (flesh)
Coverage
England, Ramsey Abbey?
Collection
Tags
Share This