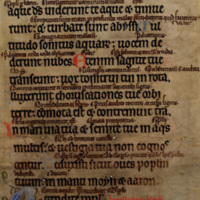 Psalter, glossed
Information About This Item
Description
Provenance: John Bagford (1650s-1716) to St. Martin-in-the-Fields; sale 1861 to Sir Thomas Phillipps, n.15758; his sale 22 May, 1913, lot 742; Sir Sydney Cockerell (1867-1962) sale Sotheby's 3 April, 1957; William Salloch (Ossining NY) Cat. 258 (1968) to U. Missouri.
Script: Gothic
Condition: Evidence of cropping on left, right, top (?) and bottom (?); evidence of use in binding: 2 folds, 13mm apart with 3 sets of matched holes, 50mm apart on either side of folds indicating that fragment has been stitched around book as wrapper/binding
Relation
M. McC. Gatch, "Fragmenta Manuscripta and Varia at Missouri and Cambridge," Transactions of the Cambridge Bibliographical Society9 (1990) 434-75.
Identifier
Fragmenta Manuscripta 045
Source
http://ds.lib.berkeley.edu/FragmentaManuscripta045_45
Format
Parchment - 222 x 139 mm - Single column with 36 lines visible, alternating text and commentary, writing on top of grid, with bounding lines, ruling with leadpoint on recto (hair)
Collection
Tags
Share This