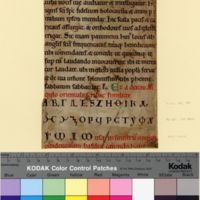 Pontifical
Information About This Item
Description
Contents: Dedication of a church with numerals, written as Greek letters, some of which were dropped from the Ionic ABCs in s. XI;
Provenance: John Bagford (1650s-1716) to St. Martin-in-the-Fields; sale 1861 to Sir Thomas Phillipps, n.15758; his sale 22 May, 1913, lot 742; Sir Sydney Cockerell (1867-1962) sale Sotheby's 3 April, 1957; William Salloch (Ossining NY) Cat. 258 (1968) to U. Missouri.
Script: Gothic
Condition: Evidence of cropping on top, bottom, right and left
Notes: See BL Add 28188 (from Ramsey?) and CCCC 44 (Canterbury), text differs from pontifical of Archbishop Robert, Historical Society p. 75.
Relation
M. McC. Gatch, "Fragmenta Manuscripta and Varia at Missouri and Cambridge," Transactions of the Cambridge Bibliographical Society9 (1990) 434-75.
Identifier
Fragmenta Manuscripta 034
Source
http://ds.lib.berkeley.edu/FragmentaManuscripta034_45
Format
Parchment - 159 x 119 mm - Single column (visible) with 19 lines visible, ruling with leadpoint on verso (flesh)
Collection
Tags
Share This