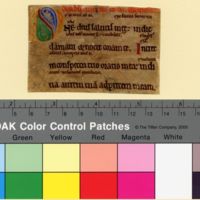 Psalter, glossed
Information About This Item
Description
Provenance: John Bagford (1650s-1716) to St. Martin-in-the-Fields; sale 1861 to Sir Thomas Phillipps, n.15758; his sale 22 May, 1913, lot 742; Sir Sydney Cockerell (1867-1962) sale Sotheby's 3 April, 1957; William Salloch (Ossining NY) Cat. 258 (1968) to U. Missouri.
Decoration: One major initial (22 X 21), yellowish gold, red, blue, green, 4 minor (1 line), simple Roman capitals, oxidized red, green, blue (rubbed)
Relation
M. McC. Gatch, "Fragmenta Manuscripta and Varia at Missouri and Cambridge," Transactions of the Cambridge Bibliographical Society9 (1990) 434-75.
Identifier
Fragmenta Manuscripta 028
Source
http://ds.lib.berkeley.edu/FragmentaManuscripta028_45
Format
Parchment - 53 x 79 mm - Single column with 5 lines visible, interlinear gloss, bounding lines visible, with outer bounding lines 5 mm to left, ruling in drypoint on recto (flesh)
Collection
Tags
Share This