The University of Missouri has long been a partner and sponsor of activities offered by Missouri River Relief, a not-for-profit organization dedicated to connecting people to the Missouri River.  Now MOspace, the University of Missouri's online repository, is partnering with Missouri River Relief to offer curriculum material to K-12 schools in Missouri. Common Trees of the Missouri River Bottoms: A Guide for Students is the first of these materials. Two Mizzou students assisted with its creation.
Missouri River Relief has removed 876 tons of trash from the river with the help of 23,000 volunteers over the past 16 years and has also reached 18,000 students through interdisciplinary and experiential educational events. Kristen Schulte, Missouri River Relief's Education Coordinator, says these events are designed to "engage students' innate sense of wonder and natural curiosity. We believe this approach inspires community engagement, academic achievement, and a sense of stewardship."
Common Trees of the Missouri River Bottoms is not a foolproof taxonomic tree ID guide but instead a guide for a hands-on learning experience for elementary through high school students. It focuses on Missouri River floodplain trees' bark rather than leaves, a unique approach to teaching and learning tree species. Many Missouri River floodplain trees are very tall with leaves out of reach, while tree bark is at the student level.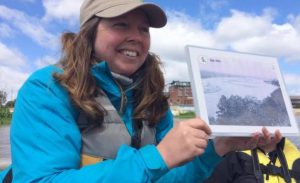 Kristen knew that more young people would learn about Missouri River floodplain trees through this method if the guide were freely available online. As a graduate student at the University of Wyoming, she worked on Yellowstone Youth Conservation Corps Resources Education Curriculum, seventeen lessons designed for the youth employed in the program. The curriculum is housed in the Wyoming Scholars Repository, which tracks how many times it has been downloaded. "When I started working for Missouri River Relief," Kristen says, "I knew that we wanted to have a similar curriculum for the Missouri River, and it would be helpful to have the statistical information of the downloads, which we are not able to capture on our website. So I reached out to Noël and Felicity and they were supportive of the idea."
Felicity Dykas, Head of Digital Services, saw the collection as a good fit for MOspace, and Noël Kopriva, Agriculture, Food and Natural Resources Librarian, agreed. Felicity says, "One of our goals for MOspace is to preserve research and scholarship and to make these resources available to the Mizzou community and others worldwide."
The reach of Common Trees of the Missouri River Bottoms has truly been international. It was added to MOspace in August 2017, and Felicity shares that "It's already been downloaded more than 400 times, including by people in China, France, Serbia, and the United Kingdom, among other countries."
Missouri River Relief is developing additional resources to be uploaded to MOspace, including Missouri River Curriculum, Missouri River Information Packets, and Missouri River STEM Challenges.
Cycle of Success is the idea that libraries, faculty, and students are linked; for one to truly succeed, we must all succeed. The path to success is formed by the connections between University of Missouri Libraries and faculty members, between faculty members and students, and between students and the libraries that serve them. More than just success, this is also a connection of mutual respect, support, and commitment to forward-thinking research.
Although the Cycle of Success typically focuses on the relationships among the Libraries, faculty, and students, the Libraries also contribute to the success of all the communities Mizzou serves. The Libraries are an integral part of Mizzou's mission "to provide all Missourians the benefits of a world-class research university."
If you would like to submit your own success story about how the libraries have helped your research and/or work, please use the Cycle of Success form.