Finding sources that meet the expectations of your professor may seem like a daunting task. However, Mizzou Libraries provides tools to simplify the process of finding high-quality, scholarly sources.
After you search the main search bar on the library homepage, you can limit your results to peer-reviewed sources by clicking this checkbox: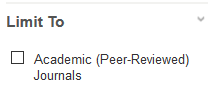 This way, you know the articles you're viewing have been peer-reviewed and are scholarly.
Other databases may offer a similar option, but each is arranged and designed independently, so the wording or location may be different.
One more pedantic note–it is ultimately your job to determine the quality of source. If you are unsure, you can always chat with a librarian or come to the Research Help and Information Desk for assistance. We are happy to help!
Save