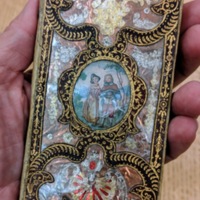 Almanach iconologique, année 1771 : septieme suite, les XII. mois…
Information About This Item
Creator
Gravelot, Hubert François, 1699-1773, artist, author.
Title
Almanach iconologique, année 1771 : septieme suite, les XII. mois de l'année / par M. Gravelot.
Publisher
A Paris : Chez Lattré, Graveur, rue S. Jacquesa la ville de Bordeaux
Description
Bound in a late 18th century French white calf mosiac binding with a split-pin attachment for reuse. Front and back covered in red foil, overlaid with colored metallic paper elements covered with a thin sheet of mica. Intricate gold tooled cut outs of red leather are overlaid on the mica. The covers feature centered oval miniature paintings of couples walking arm-in-arm. The spine has alternating leather colored onlays with gold tooling and evidence of contemporary repair of pin holes from previous year's use. Endpapers are pink silk moiré with gold dentilles. A mirror is affixed to the front inside pastedown.
Identifier
OCLC/WorldCat Number 1098242030
Collection
Tags
Share This