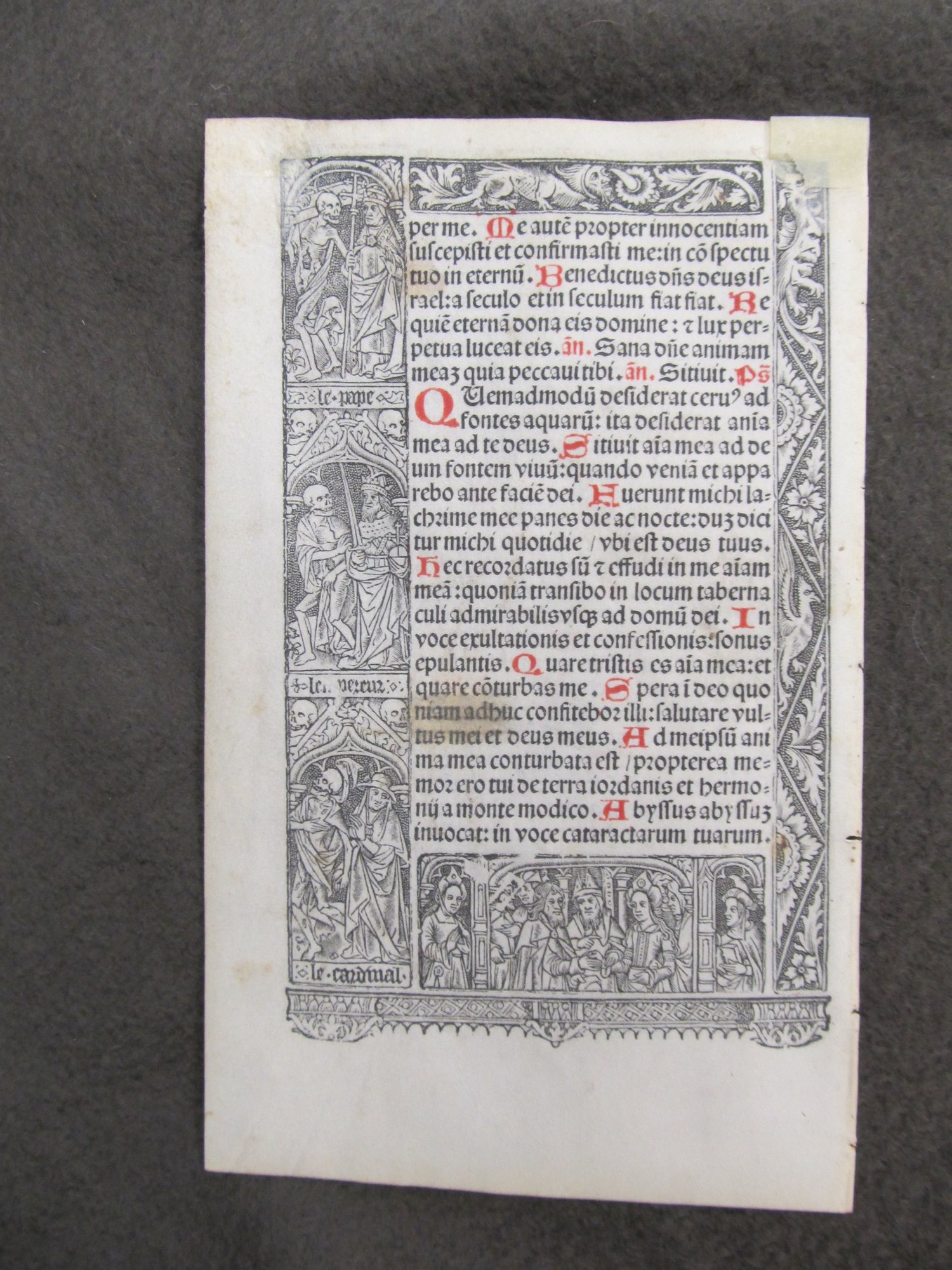 Book of hours. Selections
Information About This Item
Title
Book of hours. Selections
[Hore presentes ad usum Sarum impresse fuerunt Parisius per Philippu[m] pigouchet].
Publisher
Per Philippe pigouchet
Date
Anno salutis. M.CCCC.xcviii. [1498] die vero. xvi. Maii. pro Symone Vostre ...]
Description
Title and imprint from STC (2nd ed.), 15887.
Two leaves cut from the book and mounted with hinges; in slipcase.
Text of the first leaf includes Psalms 40: 2-14 & 41: 2-8; the second leaf includes Psalms 5: 2-13 and 6.
Printed on parchment.
Rubricated in red; hand painted large initials at the beginning of chapters; smaller ones at the beginning of sentences.
Each page consists 26 lines of text within frame of metal engravings with scenes from the dance of death (outer edge) and Biblical scenes and scenes of church services (lower edge); inner edges are metal engraved borders with floral and animal designs.
Text in Latin; illustrations captioned in French.
Identifier
BX2080 .A2 1498
OCLC/WorldCat Number: 317497553
Subject
Catholic Church -- Prayers and devotions -- Early works to 1800.
Books of hours -- Texts -- Early works to 1800.
Dance of death -- Illustrations.
Incunabula -- France -- Paris.
Contributor
Pigouchet, Philippe, active 15th century-16th century, printer.
Vostre, Simon, active 1488-1520, bookseller.
Format
2 unnumbered leaves : illustrations ; 17 cm, in slipcase 29 cm
Coverage
[Impresse fueri[n]t Parisius (Paris)