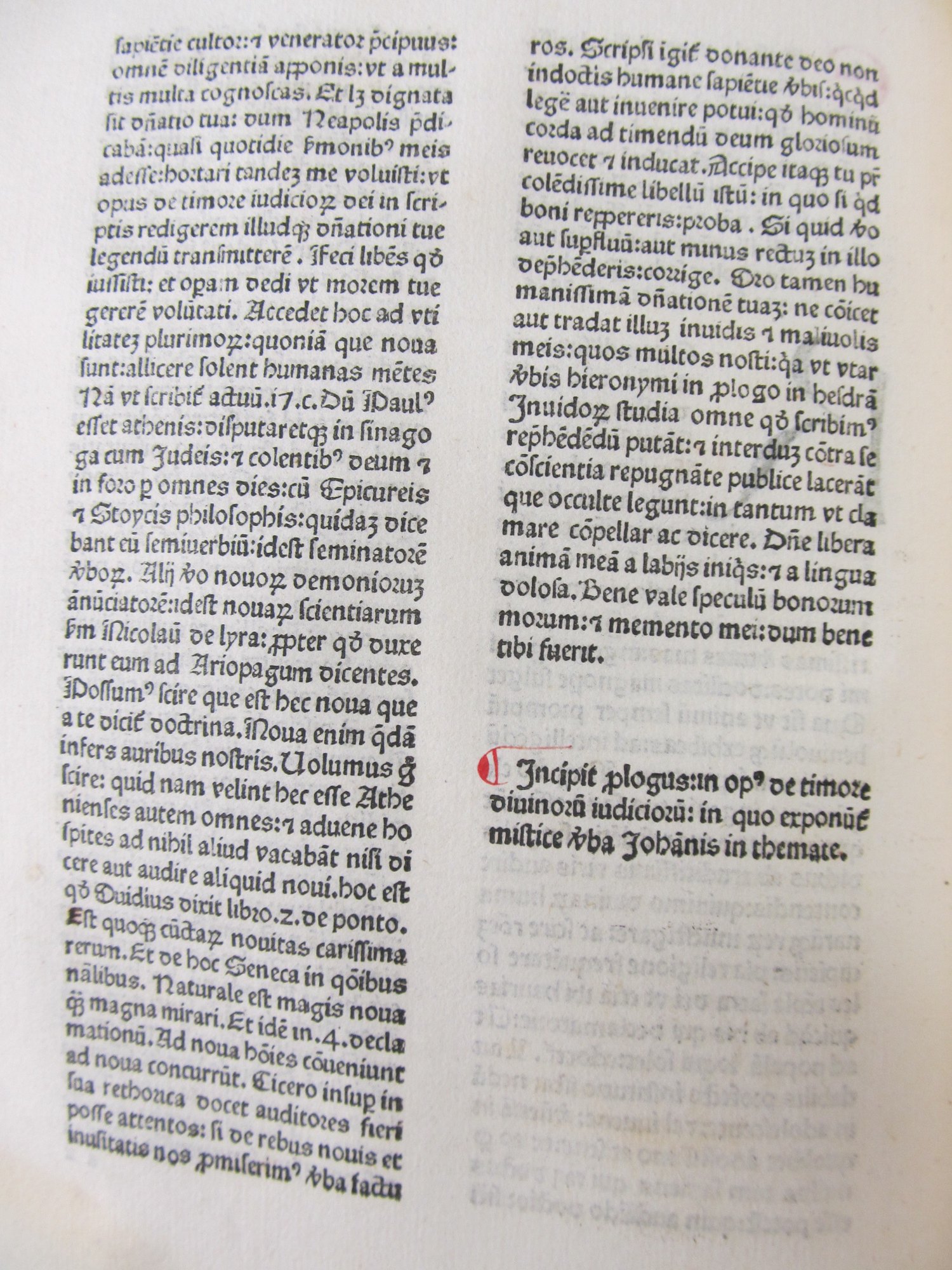 Sermones clarissimi in sacra theologia magistri Fratris Roberti Caratzuli de…
Information About This Item
Creator
Caracciolo, Roberto, 1425-1495.
Title
Sermones clarissimi in sacra theologia magistri Fratris Roberti Caratzuli de Litio ordinis minorum De timore iudiciorum Dei.
Publisher
Imprensis Iohannis de Colonia ac Iohannis Manthen de Gherretzem
Description
Title from colophon (leaf [87]v).
"De morte": leaves [88-93].
Capital spaces, with guide-letters.
Signatures: a-l[superscript 8], m[superscript 6]
Stillwell C170.
Goff C-184.
Proctor 4296.
BM 15th cent., V, p. 226.
GW 6110.
MU: Library's copy bound with the author's Sermones de adventu, etc. Venice: Johann von Köln and Johann Manthen, ca. 1474.
MU: Library's copy rubricated in red and blue ink with marginal notes in ink. Bound in full leather over boards with brass catches mounted on rear board and iron, star-shaped bosses on the front board. Tooled with interlinking, angular chain pattern within several tooled line frames, all surrounding a centerpiece of a composite cross surrounded by 4 smaller composite crosses. Parchment palimpsests in Latin used for pastedowns. Some wormholes in text and binding. Paper watermarked with a crowned, singled-headed eagle (or other bird) enclosed by a circle. MU Libraries purchased from Johanson Rare Book, Baltimore, Maryland, Feb. 21, 2011.
Identifier
BX1756.C315 S46 1474
OCLC/WorldCat Number: 64281888
Subject
Catholic Church -- Sermons -- Early works to 1800.
Judgment of God -- Sermons -- Early works to 1800.
Death -- Sermons -- Early works to 1800.
Sermons, Latin -- Early works to 1800.
Contributor
Johann, von Köln, active 1471-1491, printer.
Manthen, Johann, active 1471-1481, printer.
Format
94 unnumbered leaves (first and last blank) ; 24 cm
Coverage
Imp[re]sst [sic] in ciuitate Uenetia[rum] (Venice)