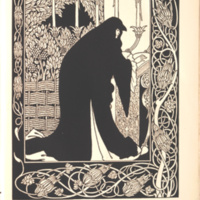 Morte d'Arthur
Information About This Item
Creator
Malory, Thomas, Sir, active 15th century.
Beardsley, Aubrey, 1872-1898.
Title
Morte d'Arthur
The birth, life and acts of King Arthur,of his noble Knights of the Round Table, their marvellous enquests and adventures, the achieving of the San Greal, and in the end Le morte Darthur with the dolourous death and departing out of this world of them all / the text as written by Sir Thomas Malory and imprinted by William Caxton at Westminster the year MCCCCLXXXV, and now spelled in modern style; with an introduction by Professor Rhys and embellished with many designs by Aubrey Beardsley.
Publisher
Edinburgh : Printed by Turnbull & Spears
Description
"This, the second edition of Le morte Darthur, with Aubrey Beardsley's designs ... is limited to 1000 copies for the United Kingdom and 500 for America, after printing which the type has been distributed."
Relation
Identifier
OCLC/WorldCat Number 4074731
Collection
Tags
Share This