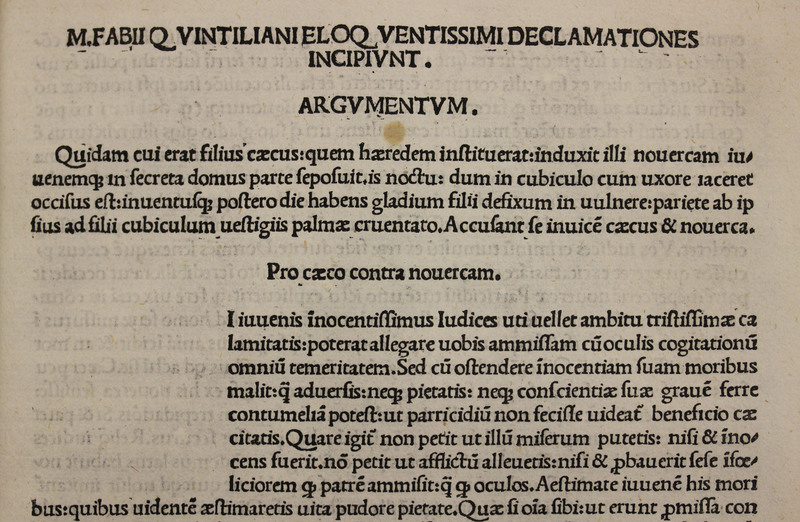 Declamationes pseudo-Quintilianeae (Maiores)
Information About This Item
Title
Declamationes pseudo-Quintilianeae (Maiores)
M. Fabii Quintiliani eloquentissimi Declamationes incipiunt.
Publisher
[Pellegrino de Pasquali and Dionigi Bertocchi]
Description
Title from incipit (leaf A2 recto).
Imprint from Goff.
Signatures: A-I⁶.
Capital spaces.
Not in Rhodes.
A textbook or rhetoric for Roman lawyers, with comments and suggestions concerning presentation and arguing tactics. With sample speeches based on fictitious cases involving pirates, exiles, adulterers, rapists, warfare between neighboring cities, smuggling, tyrants, and tyrannicides, etc.
Goff Q-21.
BM 15th cent., VI, p. 899 (IB. 28454)
Hain-Copinger (I), Reichling, 13661.
MU: Library's copy: Bound in a rustic binding of red and blue stenciled basket-weave pattern on stiff paper wrappers over old quarter vellum. Ornate ownership stamp of Hercules Silva, a landscape-architect and an active collector of incunabula, on last page. Watermarks on flyleafs depict the head of a religious figure (perhaps a bishop or pope) with a short, pointed hat topped by a cross; this head rests atop an embellished oval shape with an "A" inside adorned with crosses to the left and right of the letter; and with a cross extending from the the left side of the oval and a crook to the right. Watermarks are consistent with Italian watermarks.
Identifier
PA6649 .D5 1482
OCLC/WorldCat Number: 51228076
Subject
Rhetoric, Ancient -- Early works to 1800
Oratory, Ancient -- Early works to 1800
Speeches, addresses, etc., Latin -- Early works to 1800
Contributor
Quintilian.
Pasqualibus, Peregrinus de, Bononiensis, active 15th century, printer.
Bertochus, Dionysius, active 15th century, printer.
Silva, Ercole, 1756-1840, former owner.
Format
108 unnumbered pages (the first 2 unnumbered pages blank) ; folio