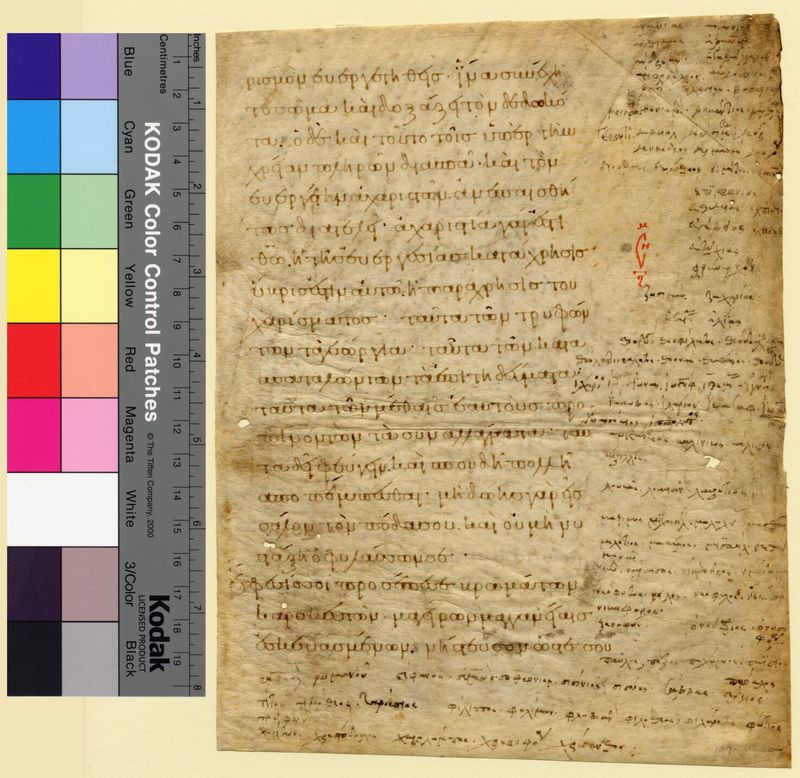 Sermons on the deadly sins
Information About This Item
Title
Sermons on the deadly sins
Description
Provenance: John Bagford (1650s-1716) to St. Martin-in-the-Fields; sale 1861 to Sir Thomas Phillipps, n.15758; his sale 22 May, 1913, lot 742; Sir Sydney Cockerell (1867-1962) sale Sotheby's 3 April, 1957; William Salloch (Ossining NY) Cat. 258 (1968) to U. Missouri.
Script: Greek minuscule bouletee
Condition: Script is a pure minuscule, not contaminated by majuscule forms
Notes: Script is no later than the first quarter of the 10th century, and it might be copied at the very end of the 9th century; Marginalia by a later hand, perhaps s. XV, containing a list of Greek Christian names in alphabetical order (probably not connected to the main text); it uses an archaic form of the letter "kappa" (see, for example, "kai" at the end of the first line); Similar to Bibl. Apost. Vaticana, Reg. gr. 29; see E. Follieri, "La minuscola libraria dei secoli IX e X," in La pale'ographie grecque et byzantine(Paris 1977) 139-153 at 147 & pl. 8b; M. L. Agati, La minuscola "boulete'e"(1992) 93-94 & pl. 51.
Relation
M. McC. Gatch, "Fragmenta Manuscripta and Varia at Missouri and Cambridge," Transactions of the Cambridge Bibliographical Society9 (1990) 434-75.
Identifier
Fragmenta Manuscripta 197
Source
http://ds.lib.berkeley.edu/FragmentaManuscripta197_45
Format
Parchment - 220 x 174 mm - One column with 20 lines with marginal commentary, no bounding lines and no discernible ruling