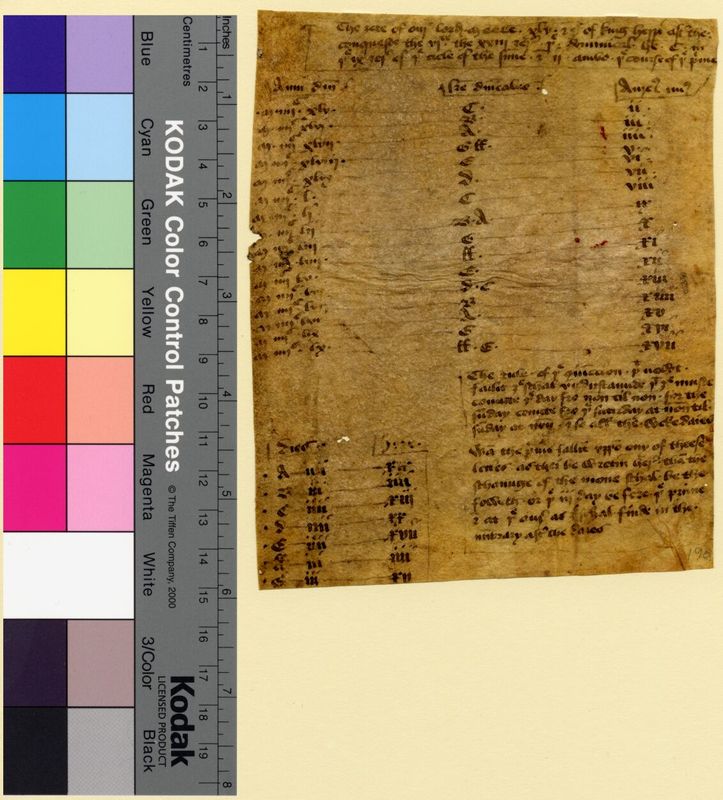 Calendrical Information
Information About This Item
Title
Calendrical Information
Date
1440 - 1460
Inscribed Date: 1445
Description
Contents: Contains columns for the calendar year (1445-1460), the Dominical Letter and the Golden Number, with notes on finding the date of Easter.
Provenance: John Bagford (1650s-1716) to St. Martin-in-the-Fields; sale 1861 to Sir Thomas Phillipps, n.15758; his sale 22 May, 1913, lot 742; Sir Sydney Cockerell (1867-1962) sale Sotheby's 3 April, 1957; William Salloch (Ossining NY) Cat. 258 (1968) to U. Missouri.
Script: Hybrida
Condition: Nothing on verso, parchment is translucent
Notes: Mechanisms for finding the date of Easter between 1445 and 1460.
Relation
M. McC. Gatch, "Fragmenta Manuscripta and Varia at Missouri and Cambridge," Transactions of the Cambridge Bibliographical Society9 (1990) 434-75.
Identifier
Fragmenta Manuscripta 190
Source
http://ds.lib.berkeley.edu/FragmentaManuscripta190_45
Format
Parchment - 150 x 120 mm - No formal lines, ruling or columns