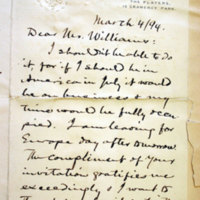 Following the equator ; a journey around the world /…
Information About This Item
Creator
Twain, Mark, 1835-1910.
Title
Following the equator ; a journey around the world / by Mark Twain.
Publisher
Hartford, Conn. : American Publishing Co.,
Description
MU: Rare copy 010-006575770 has letter from the author laid in to Dr. Walter Williams, president of the University of Missouri.
MU: Closed copy signed by Horace E. Bixby, the Missisippi River pilot who Twain trained under as a novice pilot, and dated Dec. 24th, 1897. Has label "From the Old Book Room at the Missouri Store Company Libraries, purchased and sold". Library's copy is 1st ed., 1st printing Identified by single Hartford imprint , and sigmature mark 11 at p. 161. Illustrated by 11 different illustrators. Bound in original blue cloth, illustration and design to front board depicting Asian elephant, titles and decoration to spine gilt.
Subject
Twain, Mark, 1835-1910 -- Travel.
Voyages around the world.
Equator -- Description and travel.
Australia -- Description and travel.
India -- Description and travel.
Twain, Mark, 1835-1910 -- Correspondence.
Williams, Walter, 1864-1935 -- Correspondence.

Contributor
Bixby, Horace E., 1826-1912. Former owner of the book,
was a steamboat pilot on the Mississippi-Missouri-Ohio river system from the late 1840s until his death in 1912.[1] Bixby is notable in his own right for his high standing in his profession, for his technical contributions to it, and for his service in the American Civil War. However, he is best known for having had as his "cub pilot" (that is, apprentice or trainee) the young man known to him as Sam Clemens, later to become famous under his pen name as American author Mark Twain. Twain's descriptions of Bixby's character and pedagogic style form a good part of his memoir Life on the Mississippi, and it was through this medium that Bixby—much to his annoyance—became well-known beyond the circles of his family, friends and profession.
Collection
Tags
Share This