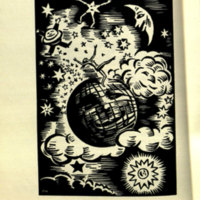 Moriae encomium : or, The praise of folly / translated…
Information About This Item
Creator
Erasmus, Desiderius, -1536.
Title
Moriae encomium : or, The praise of folly / translated from the Latin text by Harry Carter, with an introduction by Hendrik Willem Van Loon, illustrated with woodcuts by Franz Masereel.
Publisher
New York : Printed by Joh. Enschedé en Zonen, Haarlem, for the Heritage Press
Description
xv, 125 pages : illustrations ; 24 cm

Subject
Wit and humor.
Folly
Piety
Identifier
http://laurel.lso.missouri.edu/record=b1703009~S1
PA8514 .E5 1953
Contributor
Masereel, Frans, 1889-1972.
Collection
Tags
Share This