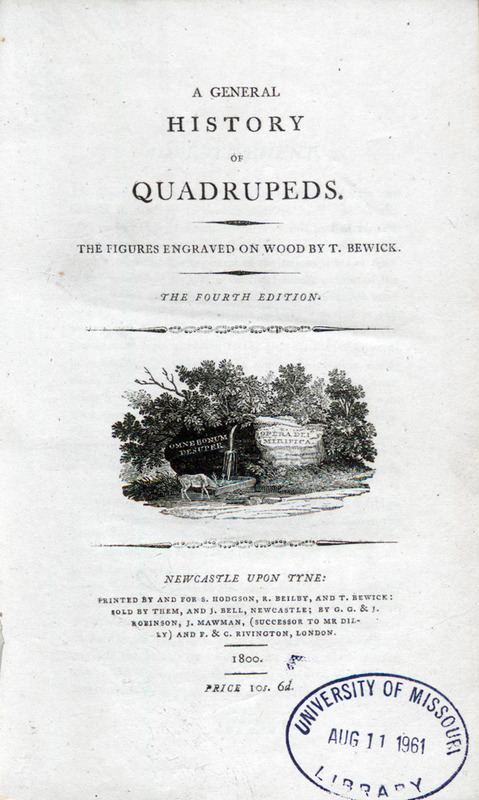 A general history of quadrupeds. : The figures engraved on…
Information About This Item
Creator
Beilby, Ralph, 1743-1817.

Title
A general history of quadrupeds. : The figures engraved on wood by T. Bewick.

Publisher
Newcastle upon Tyne : Printed by and for S. Hodgson, R. Beilby, and T. Bewick, Newcastle: sold by them, by G.G. & J. Robinson, ... and J. Mawman, (successor to Mr. Dilly), ... London, 1800.

Description
The text by Ralph Beilby -- ESTC.
Page "ix" misnumbered "xix".
Below imprint: Price 10s. 6d.
With advertisement for "The history of British birds" on p. [i].
With errata on final page.
ESTC, N67364.
MU: Pre-1801 imprint.
Subject
Mammals -- Early works to 1800.

Contributor
Bewick, Thomas, 1753-1828.
Hodgson, Solomon, fl. 1785-1800, Printer.
Robinson, George, 1736-1801, Bookseller.
Beilby & Bewick, Bookseller.
Format
2 unnumbered pages, x, 525 pages, 1 unnumbered page : illustrations ; 8⁰.