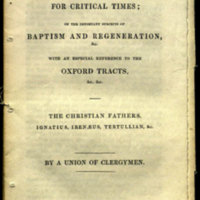 The Christian fathers : Ignatius, Irenæus, Tertullian, &c. / by…
Information About This Item
Creator
Union of Clergymen.
Title
The Christian fathers : Ignatius, Irenæus, Tertullian, &c. / by a Union of clergymen.

Plain tracts for critical times ; no. 6.
Publisher
London : Smith, Elder and Co.
Description
58 pages ; 20 cm
Subject
Baptism -- History.
Fathers of the church.
Church history -- Primitive and early church, ca. 30-600.
Identifier
http://laurel.lso.missouri.edu/record=b2562211~S1