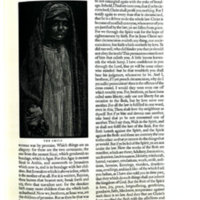 The Holy Bible : containing all the books of the…
Information About This Item
Title
The Holy Bible : containing all the books of the Old and New Testaments.
Publisher
North Hatfield, Massachusetts. ; New York City : Pennyroyal Caxton Press
Description
2 volumes : illustrations ; 41 cm
Each Testament has a special title page.
"The Pennyroyal Caxton Bible was designed & illustrated by Barry Moser. It was composed & printed folio by Bradley Hutchinson at his press in Austin, Texas ... The presswork commenced in the spring of 1997 and was completed in the autumn of 1999. The text follows that of Frederick Scrivener's 1873 critical edition of the Cambridge Paragraph Bible of the Authorized English (King James) version"--Colophon, v. 2.
"The typefaces are Galliard, Mantinia, & Mantinia Greek designed by Matthew Carter of Cambridge, Massachusetts, based on models by Robert Granjon & Andrea Mantegna. Mr. Carter also designed several new decorative & typographic elements for his types specially for this work, including the Le Bé Hebrew ..."--Colophon, v. 2, continued.
"The paper is Zerkall Bible. It was custom-made ... by the Zerkall Paper Mill in Zerkall, Germany. The paper for the special copies was made by Kathryn and Howard Clark at Twinrocker Handmade Papers in Brookston, Indiana. The watermarks were designed by the illustrator based on 16th-century French models. The illustrations were engraved in resingrave ... The blocks were cast by hand for Mr. Moser by the inventor of the medium, Richard Woodman of Redwood City, California ..."--Colophon, v. 2, continued.
"The bindings are from the combined workshops of Claudia Cohen and Sarah Creighton in Easthampton, Massachusetts. The prints that accompany the special copies were printed on hand-made Japanese Kitakata by Harold McGrath. ... The entire project was made possible by the good offices of Mr. Bruce Kovner of New York City. ... "--Colophon, v. 2, continued.
Limited edition of 400 copies printed on Zerkall Bible paper.
Includes some red rubrication.
Issued in 2 cases.
Spine title on case for volume 1: The Five Books of Moses. The Books of History. The Books of Poetry.
Spine title on case for volume 2: The Books of Prophecy. The New Testament of our Lord & Saviour Jesus Christ.
Within volume 1, each group of books (Pentateuch, History, and Poetry) is paginated separately; within volume 2, the Books of Prophecy and the New Testament are paginated separately.
Added title page for each group of Old Testament books in Hebrew. Added title page for New Testament in Greek: Hē Kainē Diathēkē tou Kuriou kai Sōtēros hēmōn Iēsou Christou.
MU: Library's copy is no. 181 of 400.
Subject
Bible. English. Authorized. 1999.
Bible -- Illustrations.
Identifier
http://laurel.lso.missouri.edu/record=b11016020~S1
Contributor
Moser, Barry, book designer, illustrator.
Hutchinson, Bradley, printer.
Cohen, Claudia, 1953- binder.
Creighton, Sarah, binder.
Carter, Matthew, type designer.
McGrath, Harold, printer.
Collection
Tags
Share This