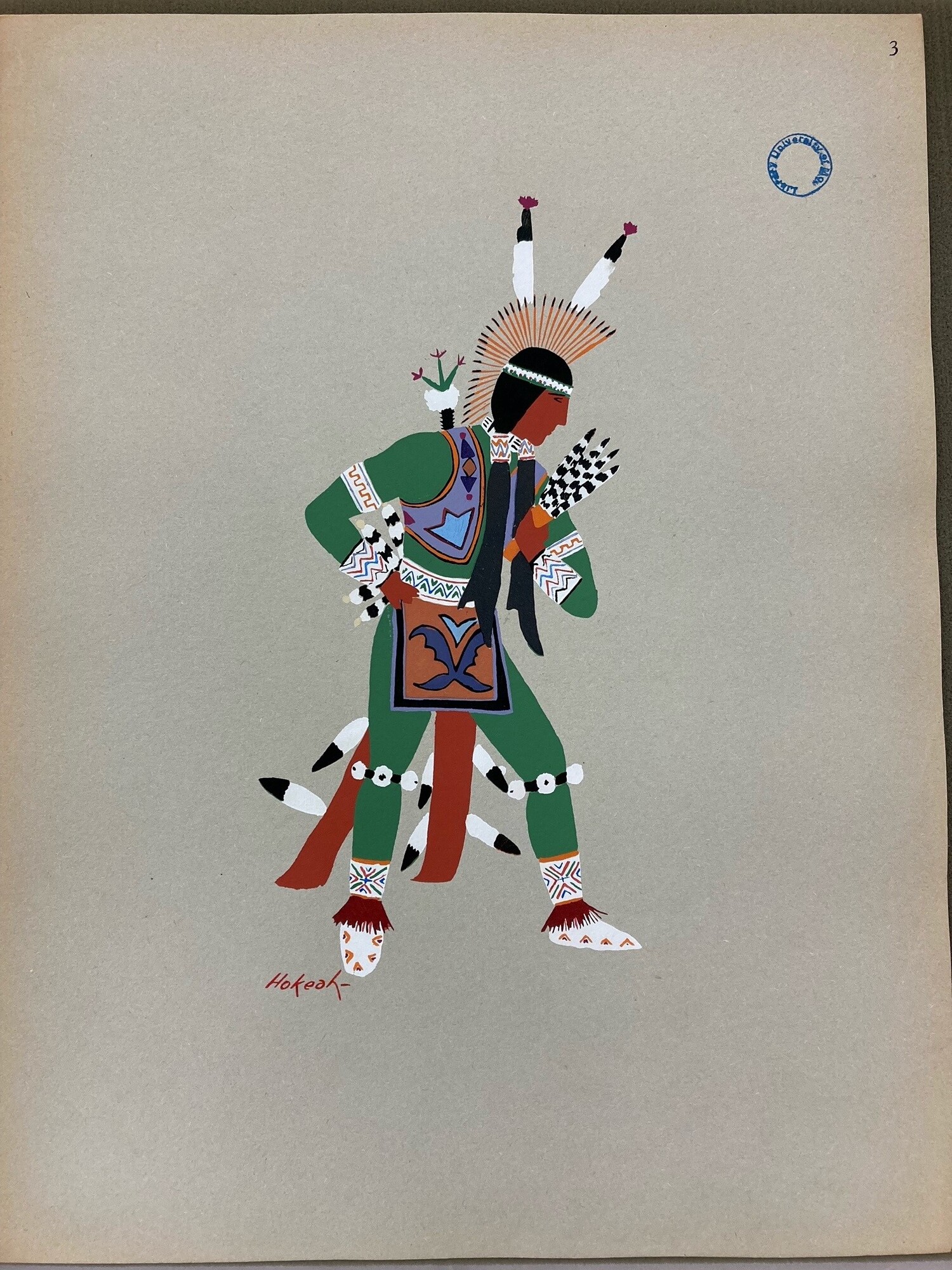 Kiowa Indian art: Watercolor paintings in color by the Indians…
Information About This Item
Creator
Tsatoke, Monroe, 1904-1937, artist
Title
Kiowa Indian art: Watercolor paintings in color by the Indians of Oklahoma
Description
In portfolio; colored plate mounted on cover.
"750 copies of this volume, all on the same paper, have been printed for sale and these have been numbered 1 to 750 and each copy bears the signature of the publisher."
Contains reproductions of paintings by five young Indians, Spencer Asah, Jack Hokeah, Steve Mopope, Monroe Tsa-to-ke and Miss Bou-Ge-Tah Smokey, chosen from the collection of Oscar Brousse Jacobson.--Introduction.
Introduction in English and French in parallel columns.
MU: Library's copy is no. 24.
Relation
Identifier
OCLC/WorldCat Number 2552446
Subject
Jacobson, Oscar Brousse, 1882-1966 -- Art collections.
Kiowa painting -- Oklahoma -- 20th century.
Indians in art.
Kiowa Five (Group of artists)
Kiowa Indians -- Oklahoma.
Painting -- Oklahoma -- Norman.
Contributor
Mopope, Stephen, 1898-1974, artist
Hokeah, Jack, 1902-1969, artist
Asah, Spencer, approximately 1908-1954, artist
Smoky, Lois, 1907-1981, artist.
Jacobson, Oscar Brousse, 1882-1966, writer of introduction.
Format
11 pages, 30 leaves of plates : chiefly color illustrations ; 39 cm