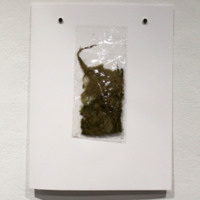 Handmade paper: fiber exposed!
Information About This Item
Creator
Barron, Eugenie (essayist)
Takahashi, Mina (editor)
Miller, Steve, 1950- (designer)
Title
Handmade paper: fiber exposed!
Fiber Exposed!
Publisher
Hand Papermaking, Inc.
Description
Contains an introductory volume plus 18 specimens of handmade paper, each laid in white paper folders.
"The edition is limited to one hundred and fifty, and two Hand Papermaking archive proofs."--Colophon.
"This portfolio was printed by Linemark, Upper Marlboro, Maryland, on Cougar Opaque Text paper in Garamond types. The Canson wrappers were letterpress printed by Steve Miller. The image on the wrapper and title page ... by Karla Elling. Judi Conant completed the binding and made the boxes"--Colophon.
Housed in a cloth-covered drop-spine portfolio box (30 x 24 x 5 cm.) with printed title on a paper label inlaid on spine.
"The stated intent of this portfolio is to highlight fiber as the medium used to create imagery, concept, and content"--Page 7.
Includes bibliographical references.
MU: Library's copy is number 94.
Contents: Fiber exposed / Eugénie Barron -- John Babcock -- Helmut Becker -- Kerri Cushman -- Karla Elling -- Mary Hark -- Helen Hiebert -- Ann Marie Kennedy -- Susan Kristoferson -- Winifred Lutz -- Susan Mackin Dolan -- Drew Matott and Peace Paper -- Bridget O'Malley & Amanda Degener -- Andrea Peterson -- Robert Possehl -- Dianne L. Reeves -- John Risseeuw -- Beck Whitehead -- Marilyn Wold -- Artists' contact information.
Subject
Handmade paper -- Specimens.
Decorative paper -- Specimens.
Paper work -- Specimens.
Papermaking -- Technique.
Identifier
Rare TS1124.5 .H36 2012
OCLC/WorldCat Number: 816165699
Contributor
Babcock, John, 1941-
Becker, Helmut, 1931-
Cushman, Kerri
Elling, Karla
Hark, Mary
Hiebert, Helen, 1965-
Kennedy, Ann Marie
Kristoferson, Susan
Lutz, Winifred
Dolan, Susan Mackin
Matott, Drew Luan
O'Malley, Bridget
Degener, Amanda
Peterson, Andrea (Andrea A.)
Possehl, Robert
Reeves, Dianne L.
Risseeuw, John
Whitehead, Beck
Wold, Marilyn
Peace Paper Project (papermaker)
Format
41 pages ; 28 cm + 18 portfolios (all samples ; 28 cm)
Collection
Tags
Share This