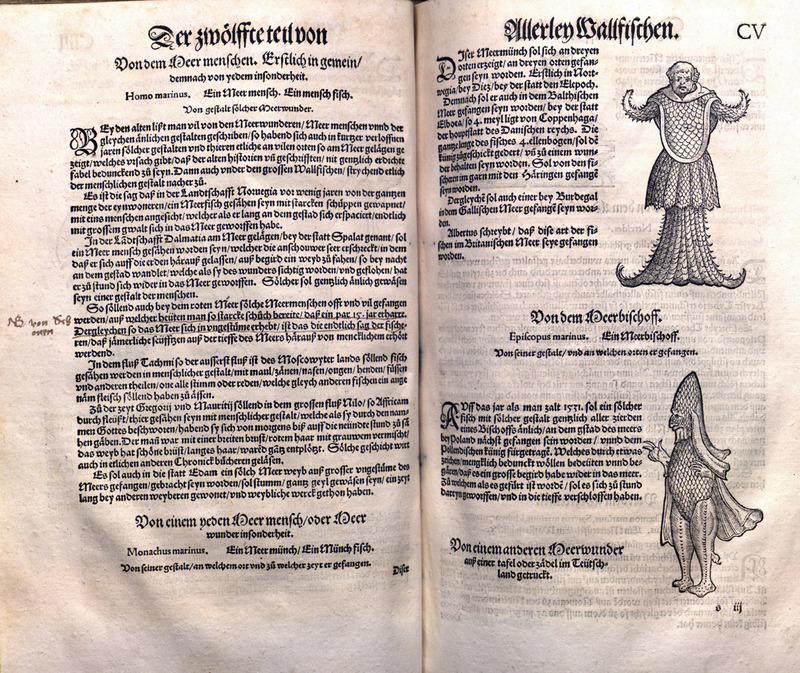 Historia animalium. Liber 1-2. German
Information About This Item
Creator
Gessner, Conrad, 1516-1565.

Title
Historia animalium. Liber 1-2. German
Thierbůch : das is ein kurtze B[e]schreybung aller vierfüssigen Thieren, so auff der Erde[n] vnd in Wasseren wonend, sampt jrer waren Conterfactur : alles zů nutz vn[d] gůtem allen liebhabern der Künsten, Artzeten, Maleren, Bildschnitzern, Weydleüten und Köchen, gestelt / erstlich durch den hochgeleerten Herren D. Cůnrat Gessner in Latin beschriben yetzunder aber durch D. Cůnrat Forer zů mererem nutz aller mengklichem in das Teütsch gebracht, vnd in ein kurtze komliche Ordnung gezogen ; mit Keyserlicher Maiestat Freyheit, in acht Jaren nit nachzetrucken, bey peen vnd strassacht Marck lötigs Golds, nach laut dess Originals.
Publisher
Getruckt zu Zürych : bey Christoffel Forschower, im Jar als man zalt MDLXIII [1563]

Description
1st edition.
Translation of books I and II of the author's Historia animalium.
Woodcut of an animal carrying its babies on its back on t.p. (from leaf CXLVIII).
Some illustrations attributed to Dürer, especially the rhinoceros (verso of leaf CXXXI); most illustrations after paintings by Lukas Schan.
Collation: aa⁴a-z⁶A-D⁶E⁴F⁶blank (binders's leaves)⁴.
Includes indexes.
Near contemporary binding: pigskin over wooden boards; blind stamped ornaments on covers; edges of covers beveled and blind stamped; raised bands; illegible writing in ink on spine; two brass clamps; manuscript marginal notes in ink.
MU: Bound with the author's: Fischbůch ... Getruckt zů Zürych : bey Christoffel Froschower, im Jar als man zalt MDLXIII [1563] -- Vogelbůch ... Getruckt zu Zürich : bey Christoffel Froschouer, im Jar als man zalt MDLVII [1557]
Identifier
OCLC/WorldCat Number: 16641157
Subject
Mammals -- Early works to 1800.

Reptiles -- Early works to 1800.

Amphibians -- Early works to 1800.

Zoology -- Pre-Linnean works.

Contributor
Toft, Richard P, Donor.

Forer, Conrad, Translator, Editor.
Froschauer, Christoph, 1532-1585, Printer.
Dürer, Albrecht, 1471-1528, Illustrator.
Schan, Lukas, Illustrator.
Format
4 unnumbered pages, CLXXII leaves : ill. (woodcuts) ; 41 cm.