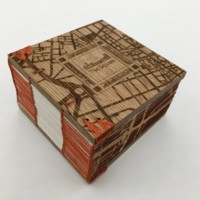 The Square
Information About This Item
Description
"Egyptian uprising called for democratic reform. Tahrir Square in Cairo became the focal point and the most effective symbol of the protests in January and February 2011. For 18 days Egyptians repeated the slogan: The People Want to Bring down the Regime (al-shàb yurid isqat al-nizam) until the regime stepped down on the 11th of February 2011. This book focuses on the revolution slogan 'al-shàb yurid isqat al-nizam.' Using Arabic Kufic script the words of the slogan are repeated in an ascending sequence. Section 19 contains the English translation for the slogan 'The People Want to Bring down the Regime.' The last section contains the time and date when the regime stepped down along with the sentence 'Al Saa'b Askat al Nezam' with its English translation 'The People have Brought down the Regime'. Cairo's map is laser engraved on the book covers. Three edges of the book are colored then laser engraved to show the streets of Cairo"--Artist's statement at the Vamp & Tramp Booksellers' website, viewed on June 15, 2016. http://www.vampandtramp.com/finepress/a/Islam-Aly.html
Cover title.
Limited edition of 40 copies, signed and numbered by the artist.
"[Twenty] sections with four folios. Mould-made Johannot paper. Colored and laser engraved edges. Bound in laser-etched [oak] boards. Ethiopian and Coptic binding with linen thread"--Vamp & Tramp Booksellers' website, viewed on June 15, 2016.
Accompanied by letter detailing physical item, subject matter, and limited edition number.
Text is laser-cut in English and Arabic.
UMC: Special Collections book is #36 of 40.
Subject
Revolutions in art.
Egypt -- History -- Protests, 2011-2013.
Maydān al-Taḥrīr (Cairo, Egypt) -- In art.
Artists' books -- Specimens.
Fore-edge painting -- Specimens.
Identifier
Rare N7433.4.A49 S68 2014
OCLC/WorldCat Number: 910518003
Format
160 unnumbered pages : chiefly illustrations ; 12 cm
nat Egyptians
gdr Men