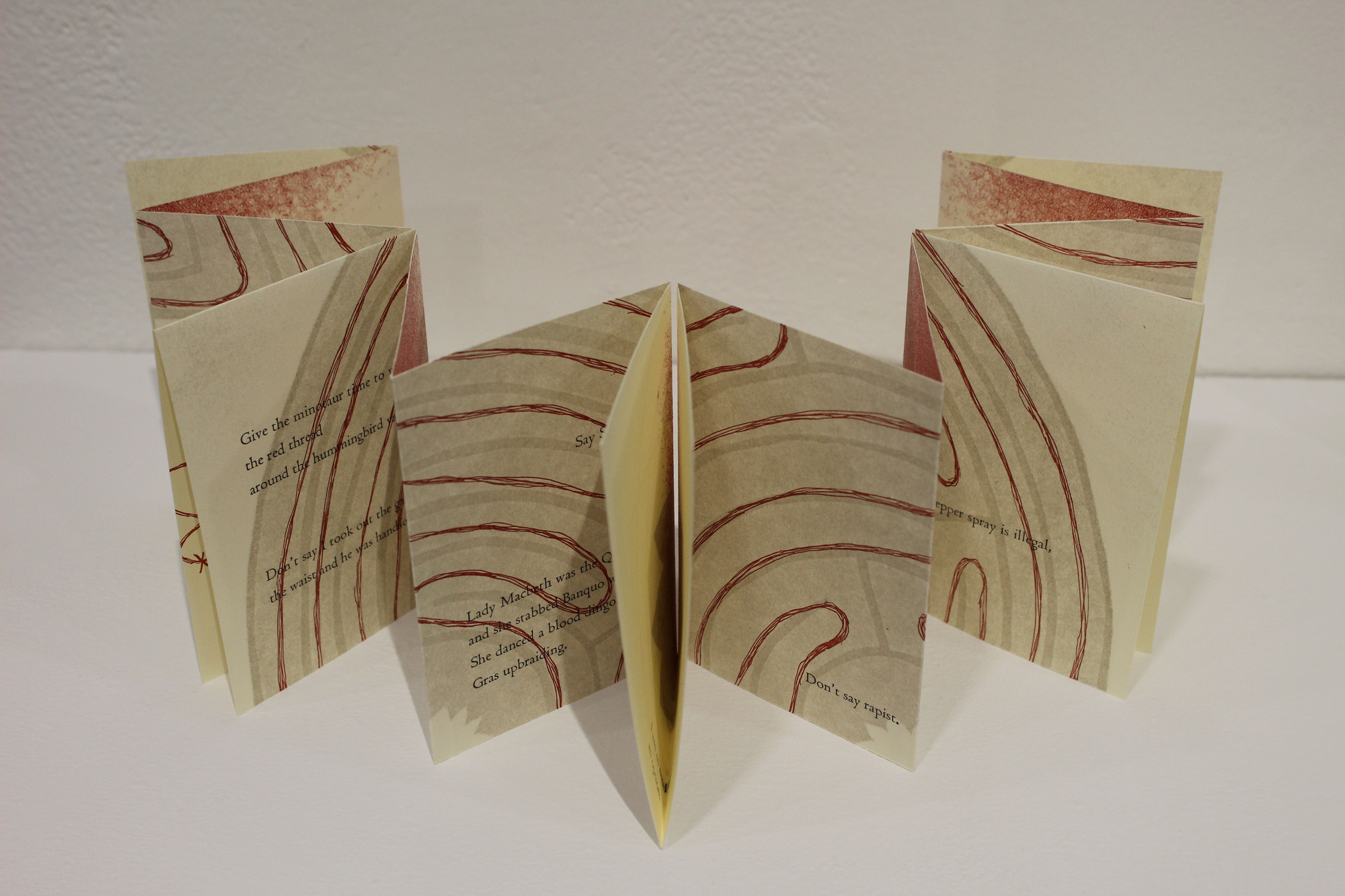 The Red Thread Cycle
Information About This Item
Creator
Ramlochan, Shivanee
Farmer, Sonia
Title
The Red Thread Cycle
Publisher
Poinciana Paper Press
Description
"'The Red Thread Cycle'" (2019) provides gut-wrenching witness to the realities of sexual assault in the Caribbean region. The starting point for this work is a series of seven poems by Trinidadian writer Shivanee Ramlochan that appear in her first book of poetry, Everyone Knows I Am a Haunting (Peepal Tree Press, 2017)."--artist's website, August 10, 2020.
Title from label affixed to box.
Stored in flip-top filing box (8 x 26 x 18 cm) with paper title label affixed to front.
"Each book was designed, letterpress printed, and assembled by Sonia Farmer. The poems were digitally set in Centaur and printed from polymer plates, with the exception of the first poem, which is handset in Centaur lead type. Illustrations were made through a combination of pressure prints and various experimental photopolymer development techniques. All seven books were printed on Rives Lightweight. Each book is stored in a Tyvek envelope, which feature letterpress-printed numbers and poetic excerpts in handset Centaur lead type, as well as hand-applied red stain. An additional envelope contains an audio recording of Shivanee reading all seven poems. The envelopes are housed in a handmade box designed and assembled by Sonia Farmer in a limited edition of twenty copies in 2019."--colophon sheet.
"Presented as a rape kit, each book is stored in a black Tyvek envelope with their corresponding numbers letterpress-printed on the outside flaps, and the first line of the poems on the inside of the flaps, as if they are numbered pieces of evidence with accompanying notes. The reader encounters a red stain on the inside when they lift the flap to remove the book."--artist's website, August 10, 2020.
Exhibited: Ninth National Exhibition: The Fruit & The Seed, at the National Art Gallery of The Bahamas; Opera Verbis: Work From Words, curated by Abecedarian Artists Books.
MU: number 4 of 20.
Contents: On the third anniversary of the rape -- Nail it to the barn door where it happened -- You wait for five years, and then -- The policeman in your throat -- The five count -- Public holiday -- The open mic of every deya, burning.
Identifier
OCLC/WorldCat Number: 1183038223
Rare-L N7433.4.F367 R44 2019
Subject
Artists' books -- Specimens.
Rape -- Caribbean Area -- Poetry.
Rape in literature.
Rape in art.
Source
Adaptation of (work): Ramlochan, Shivanee. Everyone knows I am a haunting.
Format
7 volumes : illustrations ; 23 cm or smaller in envelopes 17 x 26 cm + 1 sheet (23 cm in envelope 17 x 26 cm) + 1 USB flash drive.