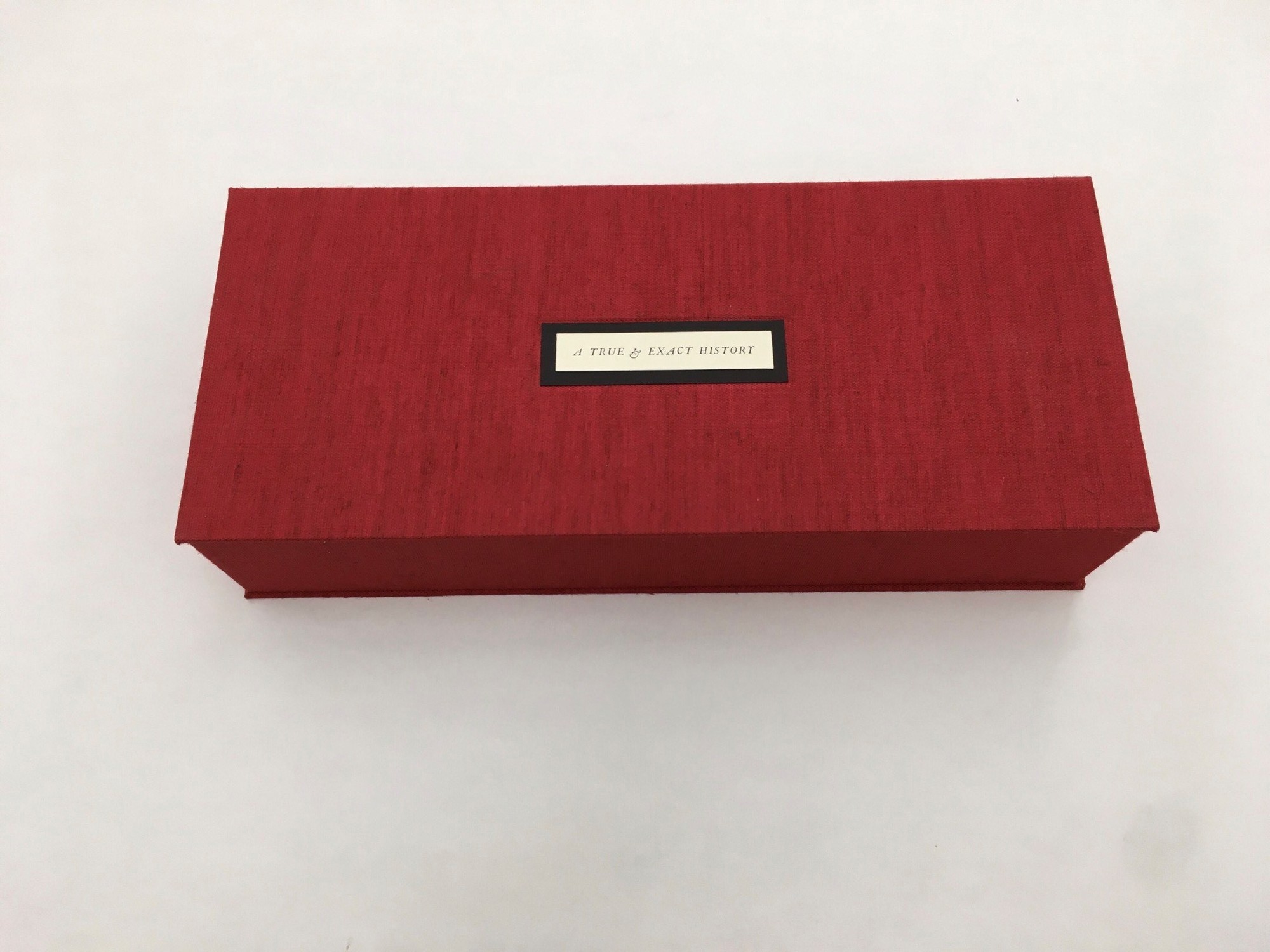 Physical Object: A True & Exact History
Information About This Item
Title
A True & Exact History
Publisher
Poinciana Paper Press
Sonia Farmer
Description
"A True & Exact History (Poinciana Paper Press, 2018) is an erasure of one of the most formative descriptions of the English Caribbean in the seventeenth Century, Richard Ligon's 1657 guidebook, A True and Exact History of Barbadoes. Using the language, imagery, and thematic drives at the core of this text to disrupt the teleology of colonial Caribbean history, these unbound poetic fragments scattered among a shifting landscape simultaneously re-create and resist narrative as a device of cohesive history, ultimately calling into question what it means to write "a true and exact history" of anything. Untethered to linearity, the book can be encountered in multiple displays and formats, including as a sound piece."--author's website, viewed July 30, 2019.
Edition of 25, each housed in a handmade box.
Card faces with enclosed text excerpts are numbered sequentially but may be presented or read out of order; card faces containing text excerpts without enclosures are unnumbered. Formatting of cards varies; some are printed with text on both sides, some with text on one side and images on the other.
"A True & Exact History was completed at the University of Iowa Center for the Book in Spring 2018 in an edition of 25 copies with the generous support of the Caxton Club. The poem is handset in Elizabeth Roman and the running heads and folios are handset in Van Dijck. Images lifted from Ligon's botanical drawings, architectural plans, and topological map of the island of Barbados were reproduced in polymer. The book is entirely letterpress-printed on Lettra Ecru paper and housed in a handmade clamshell box."--author's website, viewed July 30, 2019.
MU Special Collections copy: 12 of 25, signed and numbered by the artist.
Identifier
Rare N7433.4.F367 T78 2018
OCLC/WorldCat Number: 1110652521
Subject
Ligon, Richard. True & exact history of the island of Barbados.
Barbados -- Historiography -- Poetry.
Artists' books -- Specimens.
Source
based on (work): Ligon, Richard. True & exact history of the island of Barbados.
Contributor
Iowa Center for the Book, host institution.
Caxton Club, sponsoring body.
Format
93 cards : illustrations ; 13 x 16 cm, case 7 x 34 x 15 cm