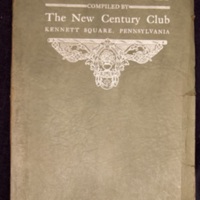 Tested recipes / compiled by the Twentieth Century Club, Kennett…
Information About This Item
Title
Tested recipes / compiled by the Twentieth Century Club, Kennett Square, Pennsylvania.
Publisher
The Club
Press of Capital Printing Co.
Description
Names of contributors are given.
Title from cover.
Advertising matter throughout.
MU: "To Mary Margaret McBride with best wishes from Anne B. Lamborn Polk, Nov. 16-1942"--T.p.
MU: some handwritten notes.
Subject
Cooking, American.
Cooking, American -- Pennsylvania.
Identifier
OCLC/WorldCat Number: 65649894
Format
104 pages : illustrations ; 23 cm
Coverage
Kennett Square, PA
Dover, DE
Collection
Tags
Share This