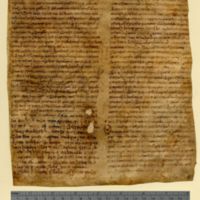 De orthographia
Information About This Item
Description
Contents: Verso - Contains the end of Priscian's De nomine (column B, line 14), followed by three passages relating to grammar, of which the second is by Audax, and the third is attributed to Jerome.


Provenance: John Bagford (1650s-1716) to St. Martin-in-the-Fields; sale 1861 to Sir Thomas Phillipps, n.15758; his sale 22 May, 1913, lot 742; Sir Sydney Cockerell (1867-1962) sale Sotheby's 3 April, 1957; William Salloch (Ossining NY) Cat. 258 (1968) to U. Missouri.


Script: Insular


Notes: "Two paragraphs of commentary at the end are written in a different hand of the same period" (Salloch 7). For text, see H. Keil, Grammatici latini7:262-265, here missing some material between end of column A and beginning of column B.
Relation
M. McC. Gatch, "Fragmenta Manuscripta and Varia at Missouri and Cambridge," Transactions of the Cambridge Bibliographical Society9 (1990) 434-75. H. Gneuss, Handlist of Anglo-Saxon Manuscripts(Tempe AZ 2001) 809.9
Identifier
Fragmenta Manuscripta 002
Source
http://vm133.lib.berkeley.edu:8080/xtf3/search?rmode=digscript;smode=basic;shelfmark=fragmenta%20manuscripta;countrysplitfacet=Wales;docsPerPage=1;startDoc=1;fullview=yes
Format
Parchment - 255 x 205 mm - 45 lines (visible) in two columns; irregular cropping at top, recto; ruling instrument: dry point, lines 2mm apart)
Collection
Tags
Share This