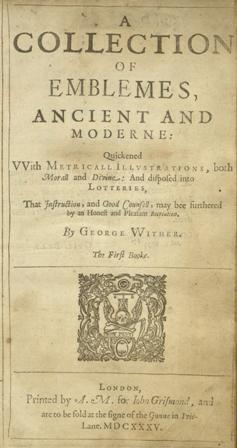 A collection of emblemes, ancient and moderne : quickened vvith…
Information About This Item
Creator
Wither, George, 1588-1667.
Title
A collection of emblemes, ancient and moderne : quickened vvith metricall illvstrations, both morall and divine ; and disposed into lotteries, that jnstruction, and good counsell, may bee furthered by an honest and pleasant recreation / by George Wither.
Publisher
London : Printed by A.M. for Iohn Grismond, and are to be sold at the signe of the Gunne in Ivie-Lane.
Identifier