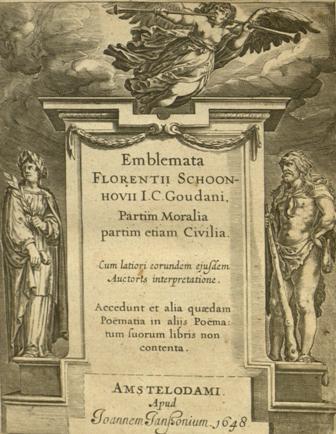 Emblemata Florentii Schoonhovii I.C. Goudani : partim moralia partim etiam…
Information About This Item
Creator
Schoonhovius, Florentius, 1594-1648.
Title
Emblemata Florentii Schoonhovii I.C. Goudani : partim moralia partim etiam civilia : cum latiori eorundem ejusdem auctoris interpretatione : accedunt et alia quaedam poëmatia in alijs poe¨matum suorum libris non contenta.
Publisher
Amstelodami : Apud Joannem Janssonium
Identifier
Subject
Emblems -- Early works to 1800.
Symbolism -- Early works to 1800.
Allegories -- Early works to 1800.
Emblem books, Dutch -- Netherlands -- Amsterdam.
Contributor
Jansson, Jan, 1588-1664, publisher.
Passe, Crispijn van de, -1670.