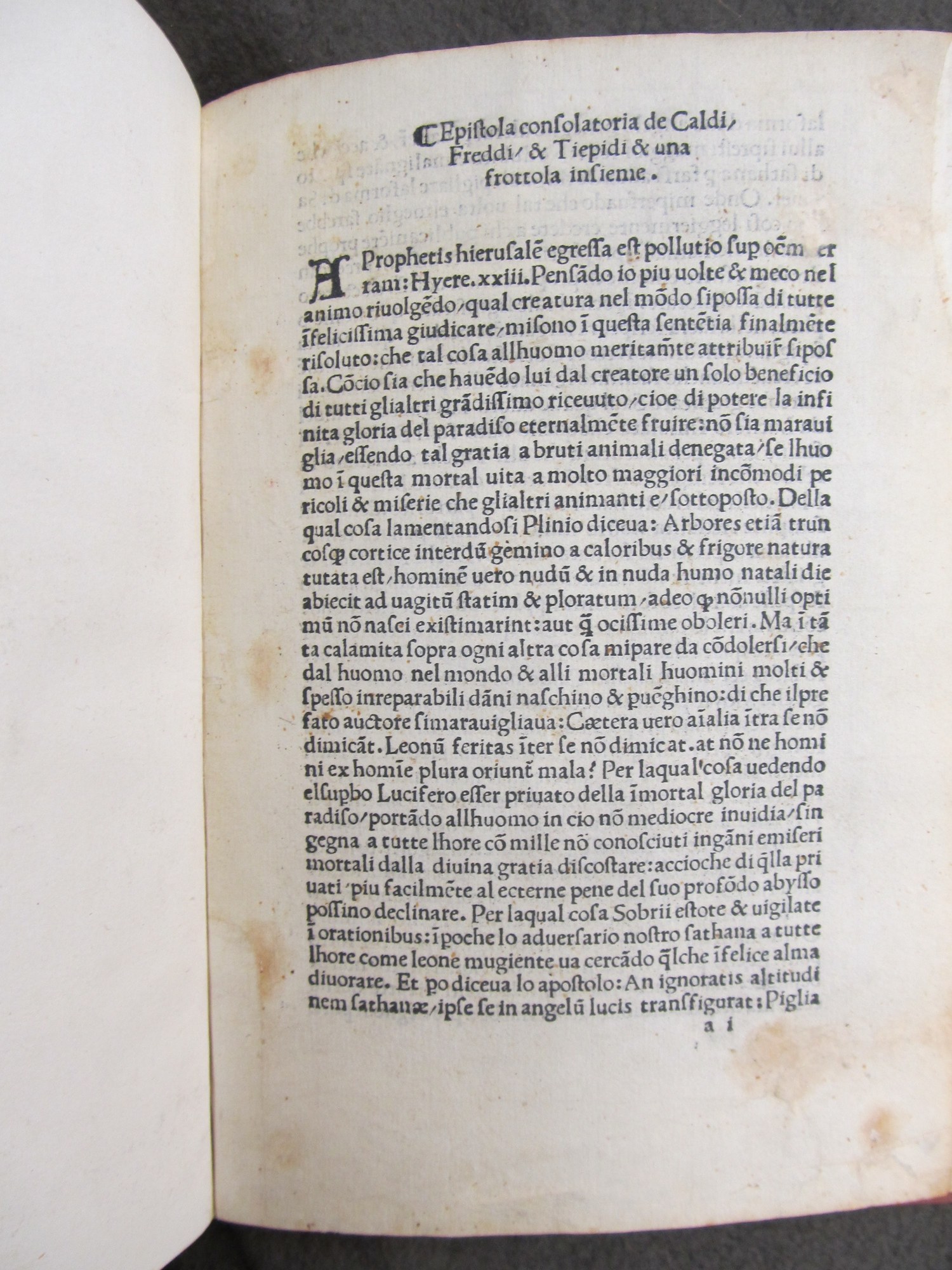 Epistola consolatoria de Caldi, Freddi, & Tiepidi & una frottola…
Information About This Item
Title
Epistola consolatoria de Caldi, Freddi, & Tiepidi & una frottola insieme.
Publisher
[Lorenzo Morgiani and Johann Petri]
Description
Contents: Sebastianus P. Epistola consolatoria de caldi, freddi, & tiepidi, inc. "A prophetis Hierusale[m] egressa est pollutio sup[er] o[mn]em terram: Hyere .xxiii. Pensa[n]do io piu uolte", expl. "& che ogni uostra cosa per lauenire prosperamente succeda. Valete. Seb. P. faciebat", a1r-a4v; Sebastianus P. Frottola, inc. "Va uia presto chanzona / non badar con persona", expl. "cosi interuiene almondo ne daltro hor siragiona. Idem fecit", a5r-a6v.
Seb. P. faciebat-- p. [8].
Caption title.
Copy in Pierpont Morgan Library said to have been printed in Florence by Lorenzo Morgiani, ca 1496. Cf. Goff. Incunabula in American ligraries, S-352. See also under title in Gesamtkatalog der Wiegendrucke.
MU: Imperfect: leaf [4] in facsim. from Pierpont Morgan Library copy.
Identifier
DG737.97 .P2
OCLC/WorldCat Number: 55773077
Subject
Reformation -- Early movements.
Incunabula -- Italy -- Florence.
Catholic Church -- Controversial literature.
Savonarola, Girolamo, 1452-1498.
Contributor
Sebastiano, da Pontremoli, active 15th century.
Format
12 unnumbered pages ; 21 cm (4to)