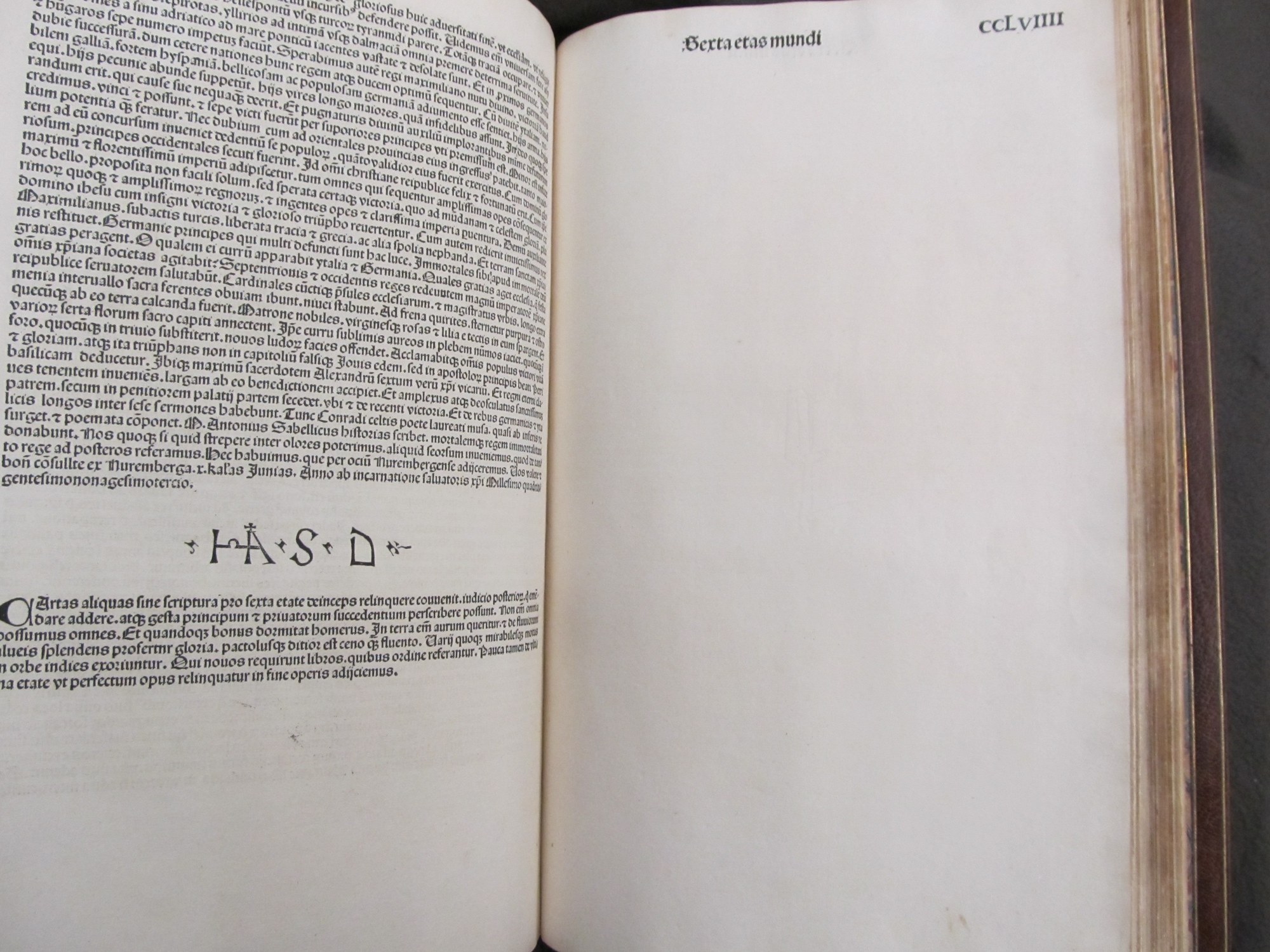 Liber chronicarum
Information About This Item
Creator
Schedel, Hartmann, 1440-1514.
Title
Liber chronicarum
Registrum huius operis libri cronicarum cu[m] figuris et ymagi[ni]bus ab inicio mu[n]di / [Hartmann Schedel. Holzschnitte von Michael Wolgemut, Wilhelm Pleydenwurff und Albrecht Durer].
Nuremberg Chronicle
Publisher
Hunc librum dominus Anthonius Koberger Nuremberge impressit ...
Date
consummatu[m] autem duodecima mensis Iulij anno salutis n[ost]r[a]e 1493 [12 July 1493]
Description
Leaf [1a] (woodcut title): Registrum huius operis Libri cronicarum cũfiguris et ymagibus ab inicio mũdi.
Illustrated by Michael Wolgemut and Wilhelm Pleydenwurff.
Leaves 12-13 missing.
Hain. Repertorium (with Copinger's Supplement) *14508. Brit. Mus. Cat. (XV cent.) II, p. 437 (IC. 7451) Schramm. Bilderschmuck d. Frühdr., v. 17, p.6, 9, and illus. Goff S-307.
Identifier
Z241 .S3 1493A
OCLC/WorldCat Number: 808020
Subject
World history -- Early works to 1800.
Chronology, Historical.
Holy Roman Empire -- History -- Frederick III, 1440-1493 -- Early works to 1800.
Contributor
Wolgemut, Michael, 1434-1519, illustrator.
Pleydenwurff, Wilhelm, -1494, illustrator.
Koberger, Anton, approximately 1440-1513, printer.
Format
20 unnumbered pages, cclxvi, 6 unnumbered pages, cclxvii-ccxcix, 3 unnumbered leaves; leaf 6 unnumbered pages (of 3d group) and 2 last leaves blank : woodcuts: illustrations, maps ; f. 48 cm