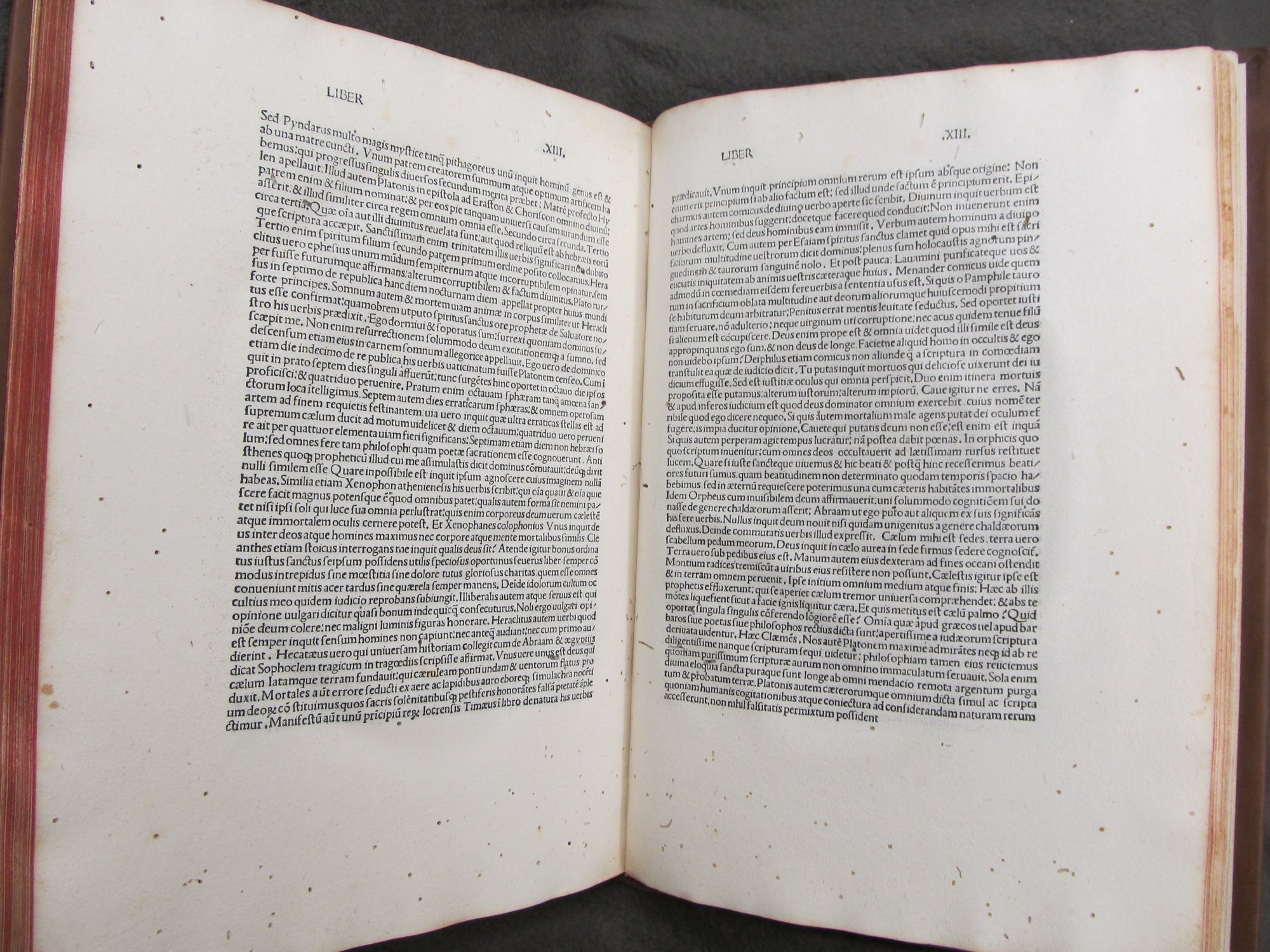 De evangelica praeparatione. Latin
Information About This Item
Creator
Eusebius, of Caesarea, Bishop of Caesarea, approximately 260-approximately 340.
Title
De evangelica praeparatione. Latin
Eusebius Pamphili de euangelica praeparatione / a Georgio Trapezuntio traductus.
Publisher
Michael manzolinus parmensis exactissima impressit diligentia Taruisii
Date
Anno humanitatis Christi Mcccclxxx pridie Idus Ianuarias [12 Jan. 1480]
Description
Title from leaf a4v.
Edited by Hieronymus Bononius.
Imprint from colophon, leaf p7v.
Signatures: a¹⁰ b-n⁸/⁶ o⁶ p⁸ (a1 and p8 blank).
"Ad sanctissimum Papam Nicolaum Q. Georgii Trapezuntii in traductione Eusebii praefatio": leaf a4-a4v.
"Hieronimus Bononius Taruisanus" [Index]: leaves a2-a3v.
Capital spaces, most with guide-letters.
Eusebius' famous work that compares the religion and philosophy of the Greeks to the religion of the Hebrews. He compares Moses with Plato and through this comparison asserts the superiority of Moses and Judaism. This work is also valued for Eusebius' 'copious extracts' from the works of ancient authors that are no longer extant.
Goff E-121.
Hain-Copinger 6702*
GW 9443.
BMC 15th cent., VI, p. 888 (IB. 28358)
Illustrated ISTC (CD-ROM, 2nd ed.) ie00121000.
Latin translation of the Greek text: Euangelikē proparaskeuē.
MU: Library's copy not rubricated, but contains numerous marginal notes in Latin in contemporary ink. Library's copy bears property stamps of "Biblioteca de PP. P. Sionistas - Zaragosa" in probably 19th century ink from the Congregationis Passionis founded 1720. MU Libraries purchased from Johanson Rare Book, Baltimore, Maryland Feb. 21, 2011.
MU: Library's copy rebound in modern full calf with blind tooling on front and rear boards. Paper watermark of round scales in a circle (Piccard 116825) which was known to be used in Ravenna around 1473. Text contains numerous wormholes and has had minor restoration work done to some pages.
Identifier
BR65.E75 D448 1480
OCLC/WorldCat Number: 38634653
Subject
Apologetics -- Early works to 1800.
Apologetics -- History -- Early church, ca. 30-600.
Contributor
George, of Trebizond, 1396-1486.
Bologni, Girolamo, 1454-1517.
Manzolo, Michele, active 1476-1481, printer.
Format
216 unnumbered pages ; 30 cm (folio)