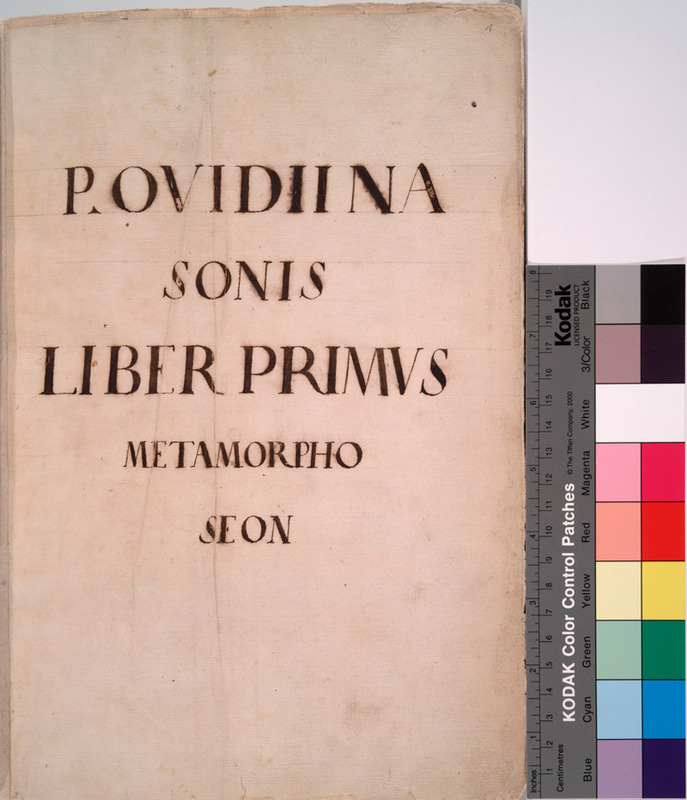 Metamorphoses. Italian & Latin
Information About This Item
Creator
Ovid, 43 B.C.-17 A.D. or 18 A.D.
Title
Metamorphoses. Italian & Latin
P. Ovidii Nasonis Metamorphoseon.
Description
Manuscript.
Title from half-title of Liber primus.
Leaves numbered in pencil: 1-512.
Each book has separate half-title page.
Interlinear manuscript Italian translation on first 48 p. only.
Corrections pasted to the text on leaf 368 (recto), 369 (recto) and 473 (verso).
Catchwords.
Rounded humanistic script; translation in similar hand.
Ink drawings at beginning of each book; decorative initials.
Contemporary marbled boards; later leather spine and corners; raised bands; red morocco label, with title stamped in gold, on spine.
Bookplate: Iohn Conyers, Esq., Copt Hall [i.e. Copped Hall], Essex.
In box, 35 x 25 x 9 cm.
Latin, with interlinear translation in Italian.
Identifier
OCLC/WorldCat Number: 85264349
Subject
Mythology, Classical -- Poetry.
Metamorphosis -- Mythology -- Poetry.
Manuscripts, Latin (Medieval and modern) -- Missouri -- Columbia.
Format
1024 unnumbered pages : illustrations ; 315 x 220 mm.