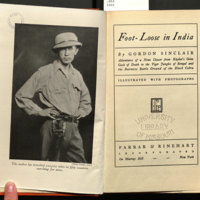 Foot-loose in India ; adventures of a news chaser from…
Information About This Item
Creator
Sinclair, Gordon, 1900-1984.
Title
Foot-loose in India ; adventures of a news chaser from Khyber's grim gash of death to the tiger jungles of Bengal and the Burmese battle ground of the black cobra.
Publisher
New York : Farrar & Rinehart, incorporated
Description
312 pages : illustrations
Author's holograph note to Walter Williams inserted.
Subject
India -- Description and travel.
Identifier
http://laurel.lso.missouri.edu/record=b2081175~S1
Collection
Tags
Share This