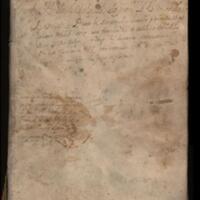 Carta executoria de la hidalguía for Fran[cis]co and Hernando de…
Information About This Item
Creator
Philip II, King of Spain, 1527-1598.
Title
Carta executoria de la hidalguía for Fran[cis]co and Hernando de Basurto
Description
Binding: limp vellum with remnants of green and red silk cords

Illumination: f 1v: large border in red with emblems and decorative elements in shell gold and silver (tarnished). Large initial D with a miniature of Philip II, kneeling on a pillow in a landscape before the Virgin and Child; Saint James, the patron saint of Spain, stands behind him.

Additional documentation written on verso of last leaf.

Measurements: 31.6 x 23.2 cm;
Rights
The original material is in a private collection not owned by the University of Missouri Libraries. Please contact Special Collections for more information.
Collection
Tags
Share This