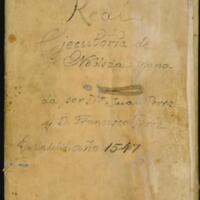 Real executoria de nobleza ganada por Don Juan Perez y…
Information About This Item
Creator
Philip II, King of Spain, 1527-1598.
Title
Real executoria de nobleza ganada por Don Juan Perez y D. Francisco Perez
Description
[title written in ink in contemporary hand on front cover]

Binding: limp vellum with flap and loop; lacks toggle fastener

Illumination: f 1v: large border with fruits, flowers, and birds; large initial D with coat of arms surmounted by the Virgin Mary

Two leaves of additional documentation on paper inserted at the end of the document.

Measurements: 34 x 24 cm
Rights
The original material is in a private collection not owned by the University of Missouri Libraries. Please contact Special Collections for more information.
Collection
Tags
Share This